Hellmann's has teamed up with YouTube star and grilling fanatic, DJ BBQ to travel the world in search of the tastiest grilled food ever to be touched by fire, resulting in a four-part series called Finding Grilltopia. This summer-long search for Grilltopia marks the launch of a new range of Hellmann's premium BBQ and Hot sauces, each inspired by exotic flavours from around the world, which join their Classic Real Mayonnaise and Mayonnaise with Olive Oil.
We recently spoke to DJ BBQ about grilling and how best to go about it :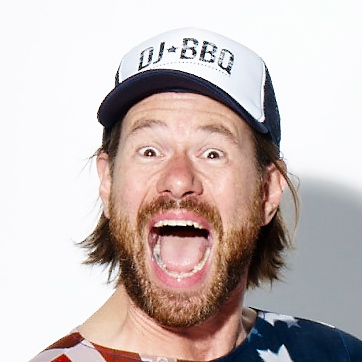 What do you enjoy most about barbecuing food? What got you started?
My father got me into cooking BBQ food at a young age.  He was a single parent raising two young kids and he was best at cooking when he was outdoors on a grill.  So from the age of 6 he taught me how to grill.  Grilling over live fire is primal, it's how we are meant to cook food.  There's flavour in wood and fresh charcoal, there's no flavour in gas.
Do you find British BBQ culture differs from American?
I find the British BBQ scene one of the best in the world.  I go to the British BBQ champs every year at Grillstock in Bristol and the crew is the most welcoming bunch of people I know.  We all belong to a BBQ forum on Facebook and it's so accepting to beginners, everyone wants to help everyone get better at cooking BBQ.  Check out Country Wood Smoke- British BBQ if you are on Facebook.  Join our crew, feel free to ask any questions.
Is there any point in gas when barbecuing? or is it all about the charcoal and wood ?
Listen, I grew up with cooking on a gas grill.  It's easy, it's there, it's on when you need it.  But there's no flavour with cooking on gas.  I prefer lumpwood made from sustainable woodlands.  Check out what Oxford Charcoal company are doing, they make great charcoal.
For the beginner outdoor cook trying to move away from the Brit tradition of frozen burgers and sausages where do we start? 
Start with making your own burger.  Ask your butcher for different types of minced meat and add some aged beef fat to the mix – 20% is perfect.  Fat is flavour so don't be afraid to add it, supercharge your burger and add some bone marrow.  
Try cooking a big joint on your outdoor cooker.  A leg of lamb, chicken, slab of ribs.  Just set your grill up for indirect cooking.  Then put that lid on and turn your grill into an outdoor oven.
What's your favourite thing to cook?
I love grilling a ribeye!  There's also a steak which isn't popular which is crazy as it's the second most tender muscle on the cow – the teres major.  It's near the flat iron on the shoulder and tastes awesome.  I also love grilling veggies and fruit – they all taste better on a grill.
How did you end up getting involved with Jamie Oliver's FoodTube project?
I DJ'd a party for his 15 minute meal book launch.  We got on.  His production company knew about me and had already shot a pilot but my background in TV consisted of being a youth Extreme sports presenter.  Luckily, Food tube signed me up and now I have over 250 recipe videos on line.
You are partnered with Hellmann's to discover 'Grilltopia' – the ultimate grilling experience, have you found 'Grilltopia' yet?
I'm always searching for Grilltopia.  I have found many wonderful ways of cooking over live fire but there are still many more out there.
What's special about the Hellmanns range of sauces?

They taste good!  Hellmans makes the best Mayonnaise out there and they've turned their hand to a super delicious range of sauces.  Here's a tip, when glazing your chicken with BBQ sauce, wait till the end of the cook to add the sauce.  BBQ sauce has sugar in it and sugar burns when it gets too hot.  That's why people tend to burn the heck out of their chicken.
Here's a great recipe for you:
Alabama white sauce
Cup of Hellmans Mayo
Cup of cider vinegar
Lemon juice
Worcestershire sauce
Cracked pepper
Make sure it's quite liquidy, it shouldn't be too thick.  Great on poultry and pork.