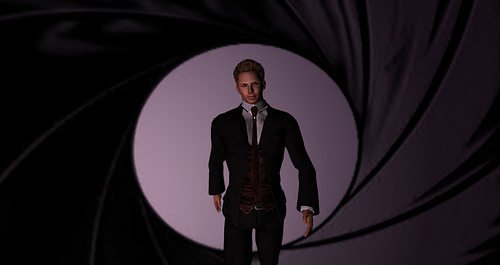 "Bond, James Bond 5" (CC BY 2.0) by  Peter Jackson's SL – Raw and fresh 
Don't wear this, make sure you say that and this person is a flavour of the month: knowing how to cut it as a modern man is never easy. Like the time and tides, fashion is ever changing so it's often handy to look towards a rock, a statue of style that doesn't blow with the winds of change in order to learn how to become the epitome of modernity.
Although we could point to dozens of popular figures, few that have their games as on point as James Bond. While he might be a fictional creation, Bond was, is and always will be the perfect mixture of style, class and danger to be the perfect role model for all modern men.
Whether it's the rugged Daniel Craig or the suave Sean Connery, every incarnation of 007 has something to offer. So, with that in mind, we've picked out some of Bond's best features in order to create a blueprint for becoming the perfect modern gentleman.
Always Wear a Suit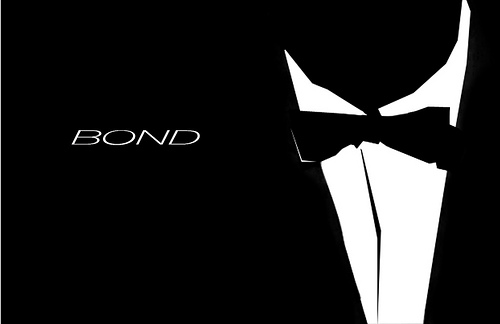 "Minimalist poster" (CC BY-SA 2.0) by  bionicteaching 
If there's one thing Bond does well it's wear a suit. Daniel Craig has rocked an array of Armani suits during his stint as Bond, Sean Connery was a master of the tuxedo as was Pierce Brosnan and George Lazenby was always a little different.
Essentially, to be a modern gentleman you need to dress like one and that means investing in a decent suit. Jany Temime, the costume designer for the latest Bond movies, advocates the single breasted suit with a classic cut.
While many of us can't afford the same sort of luxury tailoring that Bond enjoys, you can always work with what you've got. Having a single breasted suit gives you the ability to dress it up or down and doesn't look "shabby" when opened.
If you can get it tailored, then it will also offer style and comfort according to Temime. So whatever you can afford, make sure it's single breasted and, if possible, have it tailored to suit your shape.
Don't be Afraid to Gamble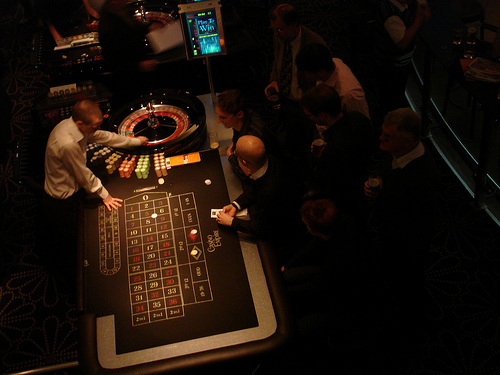 "Roulette" (CC BY-SA 2.0) by  ChodHound 
Aside from fighting crime and seducing women, Bond loves nothing more than a night in a casino. Whether he's playing poker or one of his favourites, roulette, Bond enjoys taking on the odds and putting his chips where his mouth is.
While you don't have to become a professional gambler to be like Bond, you should try out some games in order to adopt a "gambling" mindset which, in simple terms, is a mindset that breeds ultimate confidence. Being risk averse in life will hold you back, so playing games such as roulette will allow you to break those shackles and take more chances.
Visiting the high roller suites like Bond is beyond most people's bankrolls, so the perfect way to test the waters is to go online. Today, you can visit a platform like Smart Live Casino and actually compete against real dealers through a combination of webcams and specially designed tables.
Whether it's Auto Roulette, Japanese Roulette or Live Roulette, you can ante-up from as little as £0.10, chat to real croupiers and enjoy the same rush that Bond enjoys. Spinning through a few rounds of roulette will help you liberate your mind and assume the same mindset that fuels Bond's confidence in all situations.
Treat Women with Respect
Beyond wearing a smart suit and building up your confidence, the final tip for becoming a modern gentleman like James Bond is to always treat women with respect.
Although he might have his fair share of female companions, he never once utters a bad word either to or in the presence of women. Perhaps the most obvious example of this respect for women can be seen when Bond (Craig) interacts with M (Dame Judi Dench).
In one of the final scenes from Skyfall (see video above) we see M take her final breath as Bond gently cradles her in his arms before weeping into her shoulder. This touching moment was the end of an intimate relationship between the two characters and showed the amount of feelings Bond had towards M.
Although their relationship was often fractious, M was the only character who could really put 007 in his place and that came from his respect for her as an authoritative figure, but also as a person. So, if you want to be a modern gentleman, always make sure that your manners are as sharp as the suit you're wearing.