I the lead up to Euro 2016 starting this weekend Farah menswear clothing brand and award-winning independent pub experts Ben McFarland and Tom Sandham, aka The Thinking Drinkers have complied their top 25 pubs in the UK to watch the matches.The pubs and bars were rated according to not just the audio-visual experience and atmosphere but also the classic criteria that otherwise create a proper pub – a wide range of well-kept beers, friendly and informed staff, great service, tasty food and a strong selection of snacks. (Why wasnt I asked to research this I wonder????, sounds like a dream job!)
 Each pub also has the type of player they are for example The Water Poet – Player: Joe Hart – A safe pair of hands and a City favourite  , clever eh?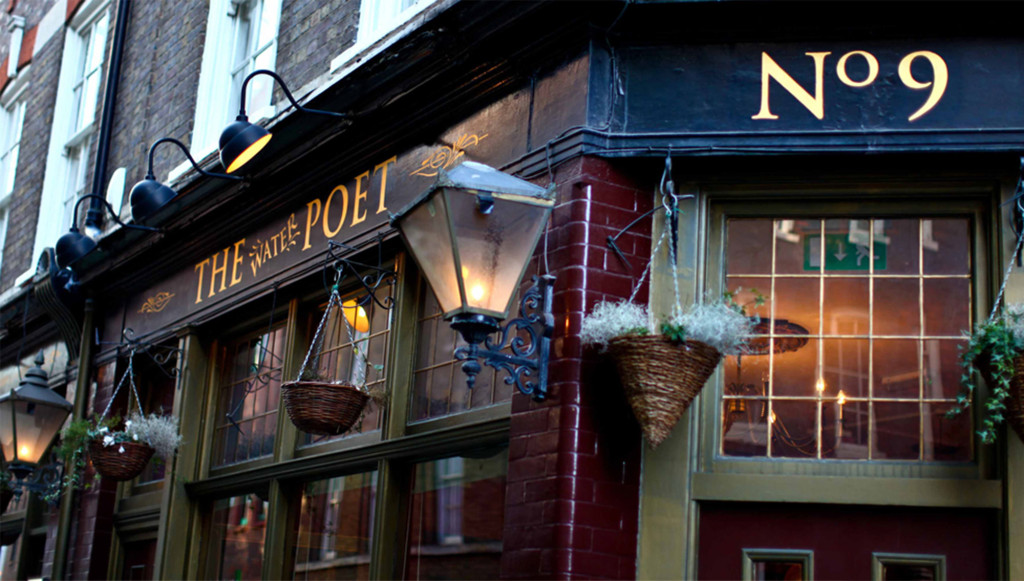 Heres the list :
The Water Poet, Liverpool Street
Situated a goal kick away from Shoreditch, where there's plenty of mischief to be made, this is a brilliant boozer to watch grown men running after a round ball. Not content with hog roasts, phenomenal food and some top gear on tap, they'll be showing every Euro 2016 game across nine screens dotted both inside and outside in a great garden with its own al-fresco bar and BBQ. Strong.
Player: Joe Hart – A safe pair of hands and a City favourite
Screens: 5/5
Beer: 5/5
Astroturf laid in the garden, delicious pizzas named after famous footballers, FIFA on the PlayStation, ping-pong, darts, DJs, hundreds of board games with footy broadcast on four big screens and a large projector. It's like a sports bar, just better.
Player: Niall Quinn, good touch for a big lad
Screens: 5/5
Beer: 4/5
Camp & Furnace, Liverpool
For a phenomenal Fan Park experience during the Euros, make your way to this former steel works in the uber-cool Baltic Triangle. It's now an amazing, multi-spaced, industrial adult playground where it'll be 'going off' during big games. The enormous warehouse space, with room for 800 fans on long Octoberfest-style trestle tables, sports the biggest screen in the city. There'll be serving steins and pitchers of beer alongside a street food market too. Marvellous.
Player: Jan Molby, big and stylish with a Danish twist.
Screens: 5/5
Beer: 4/5
There's action everywhere you look, with dozens of screens (some 3D) including a beast in the beer garden that is apparently Europe's largest outdoor screen. As well as the obvious Irish following, it draws a strong French, Italian and Belgian crowd too – even super smooth former France international Emmanuel Petit popped in with the Henri Delaunay Trophy recently, regaling regulars with tales of European Championship glory.
Player: Pele, regarded a legend but rises to the occasion without the aid of a blue pill.
Screens: 5/5
Beer: 4/5
As the name suggests, this is a sports bar cum pool hall with a penchant for the other side of the Pond. It has 30 screens, 35 tables and can seat up to 80 hungry hustlers – and if you and your pals are feeling pimped up then hire the hidden private room for up to 20 people that comes with its own loo, pool table and bespoke big screen – and a chiller chock full of craft beer. Food is a touch above the standard fare, the Limp Brisket grilled cheese sandwich being particularly fabulous. As if all this wasn't enough, they have an awesome 80-strong selection of American whiskey… So, yeah, you should go. Yee-and indeed-ha!
Player: Steven Gerrard, Liverpudlian with an American twist
Screens: 5/5
Beer: 4/5
The Hudson is for the thinking drinking footy fan. Colourful non-threatening tattoos, baseball caps and generous love of the lumberjack shirt. Aside from the eight screens showing the entire tournament, the chicken wings are legendary, there's an eclectic range of whiskeys and quality craft 'jar' – oh and there's live music too. http://hudsonbelfast.com/
Player: Gerry Armstrong – you'll need one to raise the great drinks to your mouth.
Screens: 4/5
Beer: 5/5
Famous Three Kings, West Kensington
An unashamed temple of televised sport, the multi-roomed Famous Three Kings is a massive magnet for foreign fans stationed in the Capital – it'll even draw a crowd for Albania v Romania. The food is decent, there's enough ales to keep your craft beer geek content but you don't come here for any of that – you come here to give the glad eye to the glorious game on more than a dozen screens.
Player: Stuart Pearce – full of passion and bottle(s)
Screens: 5/5
Beer: 4/5
This multi award-winning city centre institution is officially called The Gardeners Arm but locals know it affectionately as er…The Murderers (in 1895, the landlord's daughter was murdered by her husband). Great times. Anyway, thankfully everyone has moved on and the old-school standing terrace – served with HD and superb sound – now creates an awesome match day atmosphere. A sound-proofed VIP snug is available to pre-book and there are even TVs in the toilets – ensuring you won't miss any Euro action (unless, of course, it's a sit down affair). Food, served fast and friendly, is comes accompanied by an extraordinary array of independent ales while there's live music on weekends too.
http://www.themurderers.co.uk/
Player: Olivier Giroud, bit of a lady killer.
Screens: 5/5
Beer: 4/5
Picture House Social, Sheffield
In the artsy Nether Edge area just outside Sheffield city centre is the magnificent Picture House Social where matches are shown in a state-of-the-art mini-cinema room kitted out by none other than the British Film Institute. Slide down into snug cinema seats with some authentic Neapolitan pizza and a craft beer before brushing up on your backhand in the ping pong room next door – ideal for those half time and between-game lulls.
http://www.picture-house-social.com
Player: Eric Cantona – effortlessly combines football and the silver screen
Screen: 5/5
Beer: 4/5
Behold the back bar of this cool and cosy whisky pub in Glasgow's West End where regulars can celebrate England's inevitable underachievement on perfectly poisoned plasmas with a 70-strong selection of top-notch Scotch – from blends and malts to the proper old stuff that Wayne Rooney likes…. allegedly. It's by no means a full on 'fitbah' pub but the genial staff, great beers and superb slow smoked BBQ menu raise the bar above your average soulless sports hangar. Should the final score leave you feeling low, you can even stick around for the regular comedy nights.
http://dramglasgow.co.uk /
Player: Gordon Strachan. Small and a laugh.
Screens: 4/5
Beer: 4/5
The Errigle takes its sports seriously with 26 screens throughout – and some of them are massive. You get the intelligent footy chat in the main bar while upstairs, where the big screens reside, you'll find a whole load of atmosphere. Throw in a roof garden, a beer garden and even an off-licence and -well- you've got yourself a proper pub.
Player: Alan McDonald – a stalwart and a discerning drinker
Screens: 4/5
Beer: 4/5
The Alexandra Beer Emporium, Southampton
If you like your locals a little more leftfield, then you'll dig this place. It's heaving with geeky film memorabilia with Game of Thrones and Star Wars-themed cocktails served in pints. When it comes to showing the football they don't come up short like an Ewok – the best big game atmosphere is found in the sun-trapping beer garden featuring an outdoor screen and a solid sound system.
Player: Cesc Fabregas – born on May 4th….as in May The Fourth Be With You.
Screen: 4/5
Beer: 4/5
Trent Navigation Inn, Nottingham
Multiple screens, each rocking 42 inches of HD magnificence, beam every sport imaginable whether it be cricket, rugby, underwater basket weaving or darts (this is Robin Hood's err…'hood after all). You can even watch games in the beer garden. A strong range rotating of local ales (they don't actually spin) paired with daily meal deals.
http://www.trentnavigation.com;
Player: Des Walker: Because no-one else can beat it
Screens: 4/5
Beer: 4/5
The Lord Clifden, Birmingham
It's no surprise that this diamond of a free house in Birmingham's Jewellery Quarter regularly brings home the bling in the shape of shiny awards. Top beers on tap with Bankys art on the walls alongside three HD screens in the main bar and a big ol'beer garden playing host to half a dozen more. Ping pong, babyfoot and, when the weather allows, a 'bostin' BBQ. Boom.
Player: Christophe Dugarry, charismatic local hero
Screens: 4/5
Beer: 4/5
This Deutschland drinker in Vauxhall is the best London pub to watch zee Germans being annoyingly efficient. Thankfully, it's given the Das Boot to swaying, stein-clinking clichés in favour of a top range of refreshing and rare German weissbiers and lagers, big screens showing all the Euro action and some enormous belt-loosening German sausages. Try them, what's the wurst that can happen?
Player: Jürgen Klinsmann – England's most popular German.
Screens: 4/5
Beer: 4/5
The Navy Volunteer, Bristol
Comes courtesy of a tap of the nose recommendation by Bristol's bartending community so you won't be disappointed by the drinks here. The "Volley", as it's colloquially known by the locals, 'almost hits it too well', attracting a strong yet sophisticated football following. A choice of five screens alongside some cracking craft beers and quality cocktails.
Player: Mesut Ozil casual in style, classy and a bit of an eye-opener
Screens: 3/5
Beer: 5/5
As you'd except in a city stuffed full of brainy boffins, this impressive neighbourhood pub adopts a more urbane approach to Association Football – less futile lambasting of the linesman and more philosophical exploration of France's false number nine. There's no crap on tap here with some quality gear on keg and cask while the pies, that most classic football fill-me-up, are absolutely phenomenal.
Player: Frank Lampard, he's got a GCSE 'A' in Latin.
Screens: 3/5
Beer: 5/5
For most of the year, followers of the egg-shaped ball flock to this impressive city centre alehouse but, don't worry, they'll be bringing their A-game for the Euros in full 3D splendour on six screens.  Instead of drinking a pint of sick trough your own underpants whilst standing on a chair, try some of the quality cask ale and the rugby-themed food menu featuring a number of Welsh classics (cawl, rarebit and faggots) and, best of all, the Nugget's Black & Blue burger – a colossal Cajun-cum-Welsh hamburger created in association with Welsh rugby legend & chef Martyn Williams.
https://www.sabrain.com/pubs-and-hotels/south-wales/cardiff/old-arcade-new/
Player: Neville Southall, pulls out all the stops.
Screens: 5/5
Beer: 3/4
Brotherhood of Pursuits and Pastimes, Leeds
This retro, roomy Northern Quarter bar is bringing out the big confetti guns for the Euros! Punters can photograph themselves with England striker Jamie Vardy (on a green screen) while live singers will be blasting out Three Lions and the National Anthem before the England games are shown on eye-watering 82-inch TV screens. It's got proper pies, classic British cocktails, local heroes on tap and a pool table too. Nice.
http://thisisthebrotherhood.com
Player: Billy Bremner – whole-hearted, committed and doesn't mess about on match days.
Screens: 5/5
Beer: 3/5
Ye Olde Golf Tavern, Edinburgh
Screens of different sizes are scattered all around this iconic alehouse, perched on the edge of one of the oldest golf courses in the world and dating back to 1456. The burgers don't disappoint, the beers are served swift by switched on staff and – if it's looking like a nil-nil bore draw, you can event hire a couple of clubs and attack the undulating 18-hole course outside. But remember to heed the advice of wise-cracking crooner Dean Martin – "Don't drink and drive. Don't even putt".
Player: Craig Bellamy – tasty with a golf club
Screens: 4/5
Beer: 3/5
Almost as strange as the Foxes winning the Premier League, but not quite, is the sight of a pub within an enormous boat in the middle of landlocked Leicester. It doesn't scrimp on screens nor portion sizes while the drinks are good value and there's one of the biggest gardens in Leicester. Get your bets on Iceland winning the Euros.
http://www.thedrydockleicester.co.uk/
Player: Wes "Captain" Morgan – seafaring skipper.
Screens: 4/5
Beer:  3/5
With the cricket taking a back seat, this becomes Durham's great all-rounder. The drinks menu will satisfy everyone from craft beer connoisseur to cocktail geek and wine snob, while comfort food like their famous German curried sausage will ease the pain of another early European exit. Plenty of perfectly positioned screens, VIP areas and an all-weather plasma in the garden, it's close to the Cathedral so you'll have time to offer up prayers before any penalty shoot outs.
http://www.thelibrarydurham.co.uk/
Player: Brian Robson: With so many screens, it's a great box-to-box local.
Screens: 4/5
Beer: 3/5
The Strawberry, Newcastle
This rightly renowned sports bar, a throw-in (or perhaps a Fabricio Coloccini backpass) from St James' Park is bigger than it looks and has plenty of plasma screens dotted all over the place. It's teeming with 'Toon nostalgia and will be jam-packed with friendly and fanatical Geordies for all the England games. Give it a steer if you're a Sunderland fan. Or Steve McClaren.
http://thestrawberrypub.co.uk/strawberrypress/
Player: Alan Shearer: Hand in the air, the 'Toon fans' most iconic choice.
Screens:4/5
Beer: 3/5
A boss backstreet local just a pebble's throw from the beach is a big favourite among in-the-know Brighton folk. It's an intimate affair but several screens, positioned with Joachim Low-like tactical precision, deliver unbroken action with the 'bants' knob going all the way up to eleven. Great food and a tidy roof terrace that catches the rays.
http://www.thelionandlobster.co.uk/
Player: Cristiano Ronaldo – thinks he's a cool cat but can be shellfish
Screens: 3/5
Beer: 4/5
Tib Street Tavern, Manchester
With no football colours or big groups allowed, this slick Northern Quarter favourite lays on a laidback vibe. But it's embracing the Euros with gusto with four booths that can be booked in advance – each with its own TV, bespoke 'Euro' burgers tailored for each team, a whole load of hot dog action and lots of very good beer and cocktails. http://www.tibstreettavern.co.uk/
Player: David Beckham – handsome so-and-so and a great place to 'kick back'
Screens: 3/5
Beer: 3/5
Farah menswear #MatchReady campaign is helping style conscious fans prepare for EURO 2016. To find your local #MatchReady pub visit http://www.farah.co.uk/blog?post=the-ultimate-farah-pub-guide