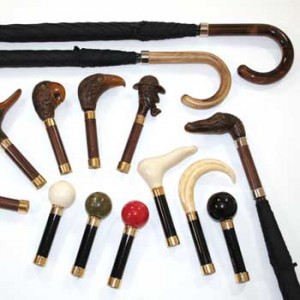 The world famous James Smith and Sons Umbrella Shop was founded in 1830 and is still owned and run as a family business. For 175 years the company has been making umbrellas, sticks and canes for both ladies and gentlemen and their reputation as the home of the London umbrella is well justified.
The historic and beautiful shop is on New Oxford Street in the heart of London's West End and is a stunning reminder of the Victorian period. The shop retains the original fittings designed and made by the master craftsman employed by the business and is a work of art in itself.
I was after a new umbrella as a gift for a friend so thought I would give James Smith a visit.   First of all I must say the staff are very friendly and obviously know their product, which is very reassuring.  I opted for the 'Fox Frame' Slim Rolled Umbrella with a red marbled cue ball style handle at £75.00.    The construction exudes quality and a swift sturdy opening reassures me that the wind will not get the better of the brolly, at least without a good fight!