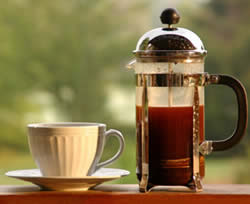 In the last year I have discovered a passion for fresh coffee, so much so I now cannot bear the frozen instant granules that are so popular here in the UK.  Anyway, after doing a bit of research for myself I thought I would share with you my tips on how to get the best from your cafetiere or french press as the Americans call them. This is the model I use the Bodum 1923 Chambord French Press Coffee Maker 0.35lt
Invest in a bean grinder, these can cost as little as £10.00 and will make such a difference to the pre-ground stuff as your cup of coffee will have an added flavour benefit.  I went for this Krups Twin Blade Coffee Mill
Choose a coffee blend that you really like. This may seem obvious, I know, but bad coffee beans really can't make a good cup of coffee.
Select or grind your coffee beans coarse to medium this ensures you avoid sediment from entering your coffee.
Ensure that your cafetière is really clean. Again, an obvious one but often overlooked, don't just rinse it under the tap; unscrew the filter end of your plunger regularly and wash each part separately.
Put coffee into the base of the glass jug part of the cafetière. Usually 1 generous dessert spoon per person is enough but you can vary this to your own taste. As a general rule, the coarser the blend the more coffee you will need.
Boil your kettle, then wait until the water has just come off the boil. Boiling water will scald your coffee.
Pour the water over your ground coffee and leave for around 3 minutes. Pour enough water for the number of cups you need.
Put the plunger on top of the jug and gently lower until the filter is down as far as it can go.
Serve and enjoy