Other than a pair of jeans, it's hard to think of a more American garment than the chino. It should be noted though, the casual cotton trousers weren't invented in the States. Their story begins on our side of the globe a long time ago and it starts, like so many pieces of men's fashion, with the military.
In the 1840s, British colonial soldiers marching through India dyed their white uniforms to match the terrain's dusty, saffron-hued sand. In fact, the term khaki is derived from the Persian word khâk, meaning "dust/ashes" Eventually, every solider was outfitted in khaki cotton uniforms and soon they became standard issue for many of the world's military. But it was young American soldiers who introduced the chino to civilians—sporting their uniform chinos on college campuses after returning from World War II.
Durable, comfortable and adaptable to any range of styles and colours, the young men wore the drill-cloth pants with everything from T-shirts and trainers to Oxford cloth button-downs and loafers and because the trousers were as timeless as they were durable, the style endured.
An essential part of the modern man's wardrobe in my mind  would be 3 pairs of chinos in Khaki, Navy and Black. Try to stay clear from grey chinos as they look all a little too formal.
Every brand under the sun now seem to produce chinos at varying price points and quality, but for me there really is only one brand to look at…..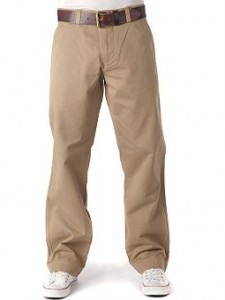 Dockers Comfort Fit Chinos
The original chinos were from Dockers made by Levis, you know what you are getting here, good solid construction a reasonable price tag and in Khaki suitable for casual wear or a more dressed down look in the office.
Available from House of Fraser and other outlets.