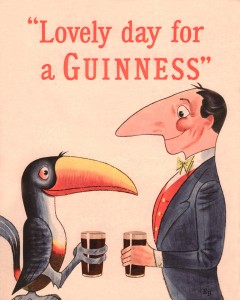 It is said that it takes 119.5 seconds to pour the perfect pint of Guinness and with St Patrick's Day fast approaching on the 17th March I thought I would arm you with all the information you need to get that perfect pint.  Anyone that drinks Guinness regularly, like me, will know ordering that perfect pint can be a bit hit and miss so here my dear readers is what your bar man should be doing :
The perfect pint of Guinness is served using the 'two-part' pour:
Select a clean, dry glass – hold the glass at 45 degrees under the spout.
Pull the handle slowly towards you and allow the beer to flow smoothly down the side of the glass (note: do not submerge the spout in the beer).
As the glass fills, straighten the glass – fill glass until full.
Stand the glass on the counter and allow the gas to surge through the beer.
To create the legendary head, push the handle backward slightly (this is known as "topping off"). The head should rise just proud of the rim.
For me the best place in London to get a pint of the black stuff has to be The Tipperary on Fleet Street which also happens to hold the honour of being the first Irish pub ever established outside Ireland  and we all know they are bloody everywhere now!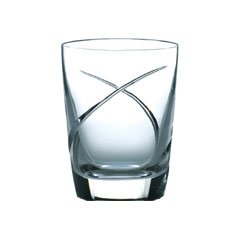 Keeping with the theme of  St Patrick's Day, I also enjoy a good whiskey from time to time, and what better way to enjoy a few Jameson's on the 17th than in some of these ultra cool Waterford Crystal Whiskey Tumblers?
Waterford Crystal has been produced in Waterford Ireland since 1783 and the company has built a reputation for producing some of the best crystal in the world.
These tumblers come in pairs at £65.00 and are available from Waterford Direct and other fine outlets.
You will of course need a good Whiskey to fill your Waterford glass and The Whisky Exchange have a fantastic selection of Irish Whiskeys including my favourite Jamesons.