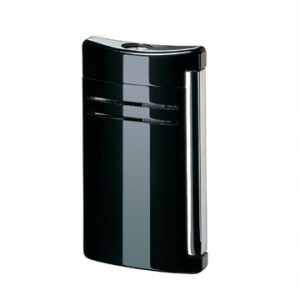 S.T.Dupont X.tend MaxiJet
lighter has long been a standard of luxury in the cigar smoking community.  If you're not aware of the price already, the maxi Jet (the full size X-tend) can be purchased for around £97. Now, before you completely dismiss this lighter, hear me out.
When I first read the hype on the X-Tend I was very keen, talk of laser guided flames excites the boy within, but when I saw the lighter in person I was tad disappointed, I don't know what I was expecting this laser guided flame to look like but well, it didn't, so I walked away.
Two weeks later, I was on my way to a cigar evening in Chelsea and my cheapo torch lighter packed up; mild panic ensued, these events tend to just provide matches and I'm not really a match kind of guy, I prefer to toast my cigars with a torch flame for that even, consistent burn I have come to love.  So what did I do? I jumped off the tube at Green Park and popped into JJ Fox to look for a lighter. I didn't have much time and didn't have a clue about any of the lighters on display except the X-Tend, so I reluctantly took a punt and bought one.
Well readers, I have never looked back.  This lighter totally lives up to the hype; a strong, straight flame that the wind doesn't seem to bother, an elegant looking solid construction and it comes with the added bonus of making fellow cigar (and cigarette!) smokers dead jealous whenever you pull it from your pocket!
The S.T.Dupont X.tend MaxiJet
can be purchased from Amazon and other good retailers.