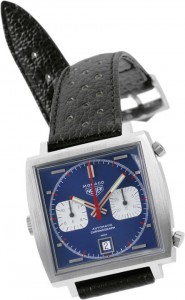 Step 1
First off is deciding on what style of men's watch you want. Will you wear it at work, out on the town or both?  A big bulky watch designed for hunters probably isn't the best watch to wear while wearing a suit.
Step 2
After you decide on the general type, you need to decide on the movement. The movement is basically the inner workings, there are three types; quartz, mechanical and digital. A quartz watch uses a tiny vibrating crystal inside, these are very accurate. Mechanical watches are either hand wind or Automatic (self winding using body movement) .The digital watch is battery powered, cheaper although considered a more casual style of watch, certainly not ideal for the boardroom!
Step 3
After you decide on the style and type of movement there are some additional considerations. Make sure you get the proper size face, a regular size face on a large man could end up looking like a ladies watch.
Look for quality construction including polished bezel and case. When it comes to mechanical watches Swiss made are generally the best.
Step 4
Waterproof, water resistant? Water resistant is NOT water proof, it just means the watch is OK if it gets splashed. When it comes to waterproof, men's watches are rated by depth.
Step 5
Take a look at the crystal, the clear covering over the face. There are three possible materials it can be made of:
Plexiglass: this is the cheapest, it scratches quite easily but is difficult to shatter
Mineral crystal: this is more expensive, it's more likely to shatter but less likely to get scratched
Synthetic sapphire: this is the most expensive, it's almost scratch proof but is easy to shatter.
Step 6
Strap type, metal, leather or rubber.  Tradition dictates that a metal or rubber bracelet should be reserved for a more casual dress with leather to be worn with a suit. But in recent years the lines have blurred largely thanks to the recent Bond films showing off the Omega Seamaster.
Step 7
When you're ready to buy consider second hand,  not only are some vintage watches amazing, but you will save yourself some money and look much cooler in your vintage 70s Omega than the guy who just bought a brand new version of the same watch.
If you are going for a premium Swiss Made watch then  stick to authorised dealers, the internet is full of fakes and replica watches some that look extremely convincing to the untrained eye.