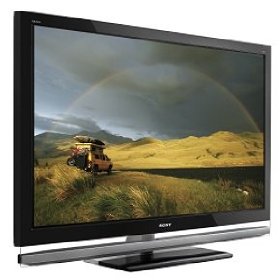 HDTV's are now becoming the standard televisions sold by retailers, HD  refers to video having resolution substantially higher than traditional television systems.
There seems to be a lot of confusion about HD so here is my quick run-down on how to make your world a Hi Def world!
The Television
Your television is the most important thing to get right here, alot of TV's will say they are HD ready but look a little bit closer, you will want to go for a set that has a 1080p picture. 1080 is the number of lines used to make up the picture, watch out for crafty wording from some retailers who will sell you a TV that is HD but only 720p or worse in resolution. I have just bought this rather lovely Sony Bravia 40-inch
for my bedroom.
The HD Source
You will also need a source of HD content, that HDTV you have just bought will only have a Standard Definition Freeview tuner built in so you will need a separate box to provide HD content, there are several options here:
SKY HD – Expensive but a top quality service, the SKY HD boxes also have a built in PVR which is a hard drive based system that lets you schedule and record tv shows on the box. The Advantage here is that Sky have all the channels you could possibly want,  whether it be Sports , Movies , Documentaries or News Sky have you covered.
FreeSat  basically offers all the free to air SD channels as well as the HD channels currently available from the likes of BBC and ITV, the list of HD channels will increase over the next year or so as HD becomes more popular and with the arrival of Freeview HD.  To receive FreeSat you will need to either  install a Satellite Dish or you can use a old Sky dish if there happens to be one already on the side of your home.  Humax seem to be the market leader in all things FreeSat and this Humax FOXSAT-HDR
receiver has received rave reviews.
Freeview HD
Freeview HD will bring HD TV to the masses, all that is required to get this system working is a standard roof top Ariel which most of us already have, and the purchase of the box.  Freeview HD is currently being rolled out, the plan being for most of the country to be covered by the Summer in time for the World Cup. There is currently a limited choice of boxes available but again Humax with the HD-FOX T2
seem to be gearing up to be market leaders.
Blu Ray Players
Of course TV isn't the only way to watch HD content, Blu Ray is essentially the HD version of a DVD. You will need to buy a Blu Ray player to be able to play these discs but the good news is that player will also play all your old DVD discs with no problems. This Sony BDPS360
is a bit of a bargain at the moment from Amazon.
Since I switched to HD I haven't looked back, I hope you too can experience the amazing world of Hi Definition soon!