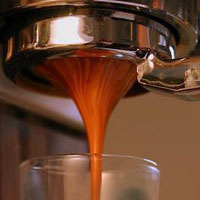 I was sitting in the garden, minding my own business when the phone rang, it was Mr Black. "Hey Mr F, How long does it take you to go get a cup of coffee?" he asked.  Then the penny dropped, the last time I spoke to him I told him I was off to get a cup of coffee to complete my round up of places that served A good cup of Joe.  I swear the man has no patience, I mean did he expect me to just run up to Scotland and have 1 cup of coffee before heading over to Wales to see what I could find there?
I am happy to report that there are some great places in both Scotland and Wales serving up really good cups of java and whilst I'd love to tell you about them all I've had to whittle them down to my favourite 3 from each.
My first stop was Glasgow, now I know what some of you might be thinking but there are some seriously good places in Glasgow satisfying coffee addicts but by far my favourite was the Tapa Coffeehouse. The Tapa is not just a café oh no Sir, it also manages to squeeze in a roastery and a bakery! What's more they are committed to doing things by hand.  So what you get are organic Arabica beans roasted and ground on the premises to make their own coffee blend (you can buy the beans to take home and grind yourself)  Then add home-baked bread into the mix and you have a delicious breakfast and brunch menu that lazy weekends with the newspapers were designed for.  I think this is why I spent so much time away from my desk!  Address: 721 Pollokshaws Road, Glasgow G41 2AA
Over in Edinburgh I found the Artisan Roast, I say found but I was directed there by a friend who knew what I was in town for.  It seems that the Artisan was originally a bean store that gave away free samples of it's coffee to entice people to buy their beans, the good people of Edinburgh not only bought the beans, they demanded a café for those times when they didn't want to make their own.  Interestingly there is no counter to block your view so the roaster sits beside the grinder which sits beside the espresso maker.  Well worth a visit. Address: 57 Broughton Street, Edinburgh EH1 3RJ
I was told about the Aberfeldy Watermill by someone in Edinburgh and just had to visit as it boasts an award winning independent bookshop, gallery and interiors shop with a café.  They use only Fairtrade espresso beans which are freshly ground no more than one hour before serving. It may be off the beaten track but you'll be glad you made the effort when you get there.  It's a great place to while away an hour or three.  Address: Mill Street, Aberfeldy, Perthshire PH15 2BG
Next week I'll tell you about my 3 great finds in Wales.  As always, if you know of place serving up great coffee that's worth a mention, do let us know in the comments.