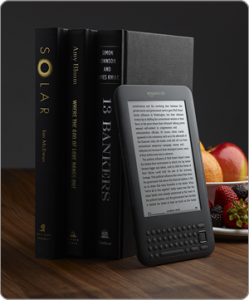 I have never been that sure on the whole idea of electronic book readers or 'e-books' I have always been of the mindset that a book is so much better, I mean it never runs out of power, you can drop it, spill coffee on it and well they are quite cheap. With the launch details of Amazon's
new Kindle however I have to admit I'm tempted, for one thing the battery lasts a month on one charge which is amazing and two the incluson of wifi and free 3G is a genius touch. Just think your in the airport waiting for the flight home, you have just finished your holiday book, yes youi could rumage through the small airport book shop or if you have a Kindle simply go online and download exactly the book you are after!
Over 170 top UK and international newspapers and magazines are also available in the UK Kindle store for single purchase or subscription. UK titles in this selection include The Daily Telegraph, The Daily Mail, The Economist, The Independent, The Financial Times and The Evening Standard. Kindle customers can also subscribe to over 9,000 blogs. All subscriptions are auto-delivered wirelessly to Kindle and start with a free 14-day trial.
The basic Wi-Fi Kindle
costs just £109, a really attractive price for many but it's the £149 Wi-Fi and 3G Model
that is eye-catching.
Available for pre-order now at Amazon.co.uk
they are due out for delivery from August 27.