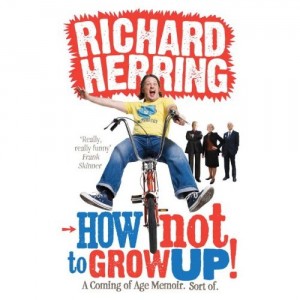 Richard Herring
has a major problem. He's about to turn 40 and hasn't seen it coming. He's not married, doesn't have a proper job or 2.4 children. But now, finally, it looks as if the world expects him to be a grown up – and he's completely unprepared for it. As the momentous and terrifying event approaches (his birthday), Richard notices a steep decline in his own behaviour. Inexplicably he begins to behave more childishly – hanging out with 22-year-olds, developing an unhealthy addiction to Flumps and even getting into a ludicrous fight. How Not to Grow Up is the hilarious story of how a self-confessed perpetual Big Kid deals with his greatest fear – getting older – and is the perfect book for everyone who, deep down, still thinks that they're 18.
If you are a fan of Richard Herring you'll already know of his talent for a wonderful turn of phrase and shameless critical self assessment. This book is a warts n all (actually warts are probably the only thing that Richard isn't afflicted by in the book – surprising considering his lifestyle at the time) account of the author's 41st year on the planet.
This is a really enjoyable read with many hilarious moments. I found the honesty and openness of the author make this more than just a comedy book. It's also a voyeuristic insight into the life of a famous person. And I'm a right nosey sod so that's good. Availble from Amazon for £6.00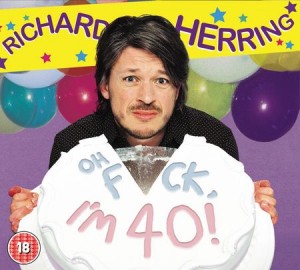 However if your the lazy sort ( or just dont like to read things!) Herring's excellent DVD ' Oh Fuck, I`m 40!'  covers much the same story in the form of one of his stand up shows £15 from Gofasterstripe.
You also  can follow Richard on twitter at @Herring1967