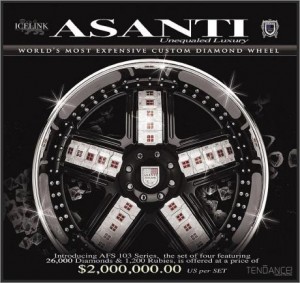 We like bargains here at Gentlemen's Goods.  I for one am not averse to scouring the virtual shelves of Ocado for a special offer or two and despite not being able to drive my curiosity was piqued when I heard that Asanti were giving away a free Bentley Continental GT (RRP £167,605)
As always there is a slight catch, the Bentley is free only if you purchase a set of customised wheels.  How much will those 4 wheels set you back? Why just a mere $2,000,000/£1,287,747!
Needless to say these are no ordinary wheels, they are custom-made and contain 6,500 diamonds and 300 rubies…per wheel!  Those nice people at Asanti will even let you choose the colour of your free Bentley and if you throw in another $6,000 and you can even have a custom grille, no jewels just shiny chrome or matt black mesh.
I'm off to book some driving lessons and scour Ocado for some more special offers to pay for the wheels!