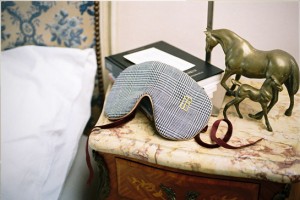 When I watch old movies I'm always slightly envious of those dapper gents who board a ship in Southampton and disembark in New York a few weeks later, relaxed and refreshed. It now requires a 2nd mortgage to even consider such luxury, instead the majority of us have to endure the hustle and bustle of air travel and neither relaxed nor refreshed spring to mind if you happen to be traveling budget and let's face it, who hasn't opted for a low cost airline at least once in their life?
There is, however, a way for today's modern man to evoke the spirit of David Niven when traveling whether it be 1st class or cattle, simply ensure you purchase a few items from Otis Batterbee. Otis has been designing luxury designer accessories for men since 2008. What we're talking about here are practical yet stylishly inspirational items such as lavender filled eye masks, washbags, hankies and cuff links.
Attention to detail is paramount to Batterbee's philosophy as is his support of British industries. This means that his fabrics are sourced from UK mills and all his products really are Made in England, whether it's lavender farmed in Norfolk, the finest Savile Row quality suiting materials woven in Lancashire or candles poured by hand in Suffolk, Otis Batterbee London is a truly British love affair.
I recently had the pleasure of receiving one of Otis's travel eye masks. Now, if you've ever flown long haul you've probably found an airline freebie eye mask on your seat. Don't be fooled into thinking this is the same thing. The Batterbee eye mask comes with luxurious 100% cotton velvet backing to caress your eyes, even the ties are velvet and the dried lavender sewn inside will leave you thinking you've been upgraded to 1st class. What's more there are no less that 14 designs but personally I can't imagine why you wouldn't want the Prince of Wales check, although I say that as someone who sports a Prince of Wales check suit far more often than is decent!
In use the eye mask is exquisite, it feels almost decedant when worn and the light lavender scent really does lull you to sleep. My only grumble is I usually awake slightly disappointed not to find a manservant called Jeeves waiting at the foot of the bed with a cup of Earl Grey and the newspapers!
So, whether you travel once in a blue moon or appear to live in a departure lounge, visit Otis Batterbee and ensure you travel and arrive in style.