MINI the car company have developed  its very first bike and in keeping with the MINI tradition it doesn't take up much space!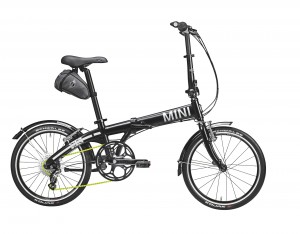 The MINI Folding Bike  is available from all MINI dealerships and  is compact enough to fit into the boot of a car  when folded. For commuters, it's a fantastic 'Park and Ride' accessory, enabling you to park out of town and then simply continue your journey in style. With many city centre car parks offering free bike bays, it's a pocket-friendly, environmentally-conscious transport option featuring MINI's  design credentials.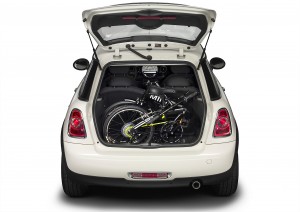 The MINI Folding Bike is a genuine high-tech vehicle: with high-quality components, a light-weight aluminium frame and a clever folding mechanism that enables the bike to be folded and unfolded in just a few seconds. The bike is folded along the crossbar and handlebars. In addition the saddle can be retracted and the pedals be folded up. This makes the bike extremely easy to handle whilst saving space. Fitted in a sleeve under the saddle is a practical transport bag. The MINI Folding Bike can easily match the riding characteristics of a "normal" bike. Weighing less than 11 kilos and equipped with 8 gears and 20-inch wheels, it is quick and versatile. The teflon-coated chain prevents annoying soiling caused by chain oil and reduces the wear and tear on the components. The comfortable gel saddle ensures comfort. Thanks to the front and rear mudguards, you can carry on peddling regardless, even in the rain. Good visibility on the road is guaranteed by the accompanying reflectors.
Even on two wheels MINI proves its unmistakable design expertise.
The bike comes in  matt black with Silver highlights that are off  set by the MINI lettering on the crossbar, the brand logo on the handlebars and the Union Jack motif on the rear forks. The absolute eye-catchers are the bike chain and bell in bold neon yellow.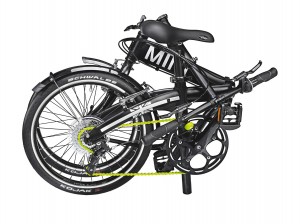 The MINI Folding Bike is available for £499 on the Internet at www.mini.com/shop and from all MINI dealerships. The bike comes fully assembled and ready to ride.