We have reviewed the Manatomicals range of products before so there's no need for me to introduce them other than to say they are fantastic quality products with fun cool packaging at a great price point.
Manatomicals continue to expand their men's grooming range and the latest is their 'Get Fresh Kit' containing a body wash and body spray.
As you can see the set is package with the usual Manatomicals humor and they certainly brighten up my otherwise boring bathroom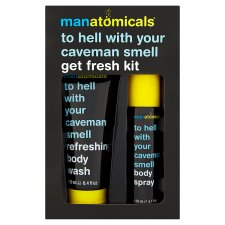 whats more I got the set as part of a 3for2 promotion at Tescos currently which also includes some other Manatomicals products so now is the perfect time to try the range!
The Get Fresh Caveman set is priced at £6.00 and if you want to take advantage of the 3for2 offer head over to Tesco.com now or pop into the store.