I'm always interested in anything new or different in the tech world, a sucker for new gadgets and gizmos I'm a early adopter of a lot of new tech sometimes to my benefit sometimes to my downfall (HD-DVD anyone?).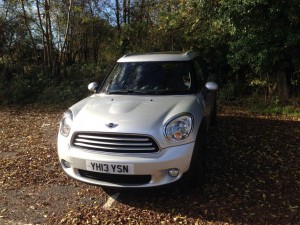 So it was with great excitement I approached the offer from MINI to check out their latest in car entertainment system called 'MINI connected'.
The idea being you connect your Iphone (sorry no Android connection currently) to the usb socket in the car via the supplied cable and MINI connected springs into life, MINI  connected offers a whole host of info about the car via the app such a mileage  fuel consumption etc but what really interested me was the music integration.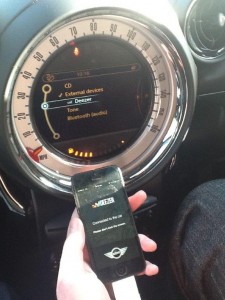 First of all the MINI communicates seamlessly with the Iphone displaying track information and artwork directly from your Iphones library , with the large round screen in the centre of the console  beautifully displaying everything you need to know this alone had me impressed, the menu system and controls are very  intuitive and not the sort of system you need to read the instruction manual for ( I never do anyway!)
One of the nice things about MINI connected is Deezer integration.  Deezer if you didn't know is a online cloud based music service where you stream music directly to your phone over the internet , you can create playlists, listen to custom playlists created by others or what they call 'Radio stations'  which constantly play ( much like a radio station) tracks from a specific genre or theme , and with access to over 30 million songs with Deezer you go way beyond the memory limits of your phone or the music you own on it.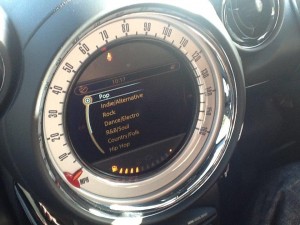 So the integration is really simple, once your Iphone is connected you run the Deezer app on the phone and then select Deezer from the MINIs menu.  Then you are free to use internet streamed music in your MINI ! The music also plays in exactly the same way as it would if stored on your phone with full artwork and track and album information included, very impressive!
WIN STUFF!
So as you can tell I was pretty impressed with the Deezer service in the MINI and Im happy to announce MINI are kindly giving away a few MINI branded prizes to two readers that come up with our favourite roadtrip playlist that you would put into Deezer to play while cruising in your MINI.
Heres a example of mine :
Passenger – Iggy Pop
Born to Run – Bruce Springsteen
Get Lucky – Daft Punk
Don't Stop Believin – Journey
Highway to Hell – AC/DC
So all we need is you to email us the names of your ultimate five track roadtrip playlist to  enterthecomp@gmail.com , I will the select two winners on December the first who will both win a MINI gear stick umbrella and MINI coffee mug.