There's no denying it: there's nothing better than a super cool gadget with loads of little buttons, controls and functions. What do they all do? What happens if I move this? What happens if I press the red button?
It feeds our inquisitive nature but also lets us be in control of something. And when that something has four wheels, double bonus points.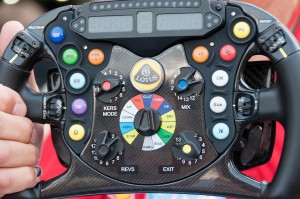 The F1 steering wheel
[Lotus wheel image credit: By Francesco via Wikimedia Commons]
A Formula 1 steering wheel varies slightly from make to make and team to team, but they have the same standard components. The controls adjust the running parameters for the engine, transmission and differential. Being in the seat of a F1 car, you'd surely feel like you were controlling the Millennium Falcon.
In this video, Nico Rosberg talks us through the controls of a Mercedes steering wheel:
The Lotus F1 guys recently created a joke steering wheel for Kimi Raikkonen, which contained a 'call mum' button, a tweet button and an option to deploy an Angry Bird. If only this were real. Perhaps LG, sponsors of Formula 1, could start branching out into the automobile field…
Bond car features
Ok, so it's not the steering controls as such, but the Aston Martin V8 Vantage in The Living Daylights had a secret control panel by the gearstick which included buttons for spiked tyres, lasers which cut through steel, retractable skis and land to land missiles – pretty cool!
Check out the chase scene in this video:
Meanwhile, the Lotus Espirit seen in The Spy Who Loved Me could actually turn into a submarine. That's a pretty handy feature to have, that's if you use your car for more than just shopping at Tesco.
Steering the Batmobile
How could we write a post about cool car controls and not mention the Batmobile? The steering wheel of the 1966 Lincoln Futura, used for the original Batmobile, was cut into a U-shape. The star of the TV series, Adam West, disliked the shape so much though that the designer replaced it with a standard Edsel steering wheel.
The latest portrayal of the Batmobile is the Tumbler, seen in Christopher Nolan's Batman trilogy: a much tougher vehicle, worthy of being called a 'machine' rather than a car. The chassis, suspension and steering were all custom built by the film's special effects department to host hydraulically operated aerofoil flaps, a jet burner, 20mm cannons in the nose cone and rear ejecting spike mines. To quote Jim Gordon, "I got to get me one of those".