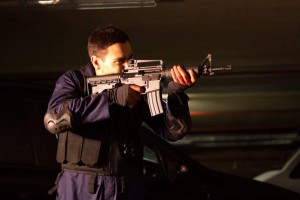 On April 7th, British action thriller He Who Dares arrives on Blu-ray and DVD from STUDIOCANAL, telling the story of a group of ruthless terrorists who kidnap the Prime Minister's daughter, fortifying themselves in an underground car park rigged with explosives. Sending in a crack SAS team, they must take back the building one level at a time. Directed by Paul Tanter (The Rise and Fall of a White Collar Hooligan), He Who Dares is a thrilling ride that harks back to British action at its best; here, we take a look back at those films…
Lock, Stock and Two Smoking Barrels (1998)
Guy Ritchie burst onto the international filmmaking scene in 1998 with his quintessential British debut Lock, Stock and Two Smoking Barrels, a crime comedy thriller renowned for first showcasing the acting talent of former footballer Vinnie Jones and Jason Statham (a former diver, for the record). A heist film at heart, Lock, Stock… follows a group of friends who must pay a debt to a powerful crime lord so set to robbing a small-time gang living next door. Starring Jason Flemying, Dexter Fletcher and, er, Sting, Ritchie's film has rightfully embedded itself into popular culture as a British modern classic.
Snatch (2000)
Guy Ritchie's follow-up to Lock Stock… may lack the cutting edge of the former, but still remained a solid effort in delivering another much-loved British film. The film follows two intertwined plots each containing an ensemble of characters played by a impressively assorted cast. One strand concerns the search for a missing diamond (starring Benicio del Toro and Frank Butcher himself, Mike Reid), whilst the other sees Jason Statham's boxing promoter Turkish under the thumb of ruthless gangster, Brick Top (Alan Ford). Easily distinguishable by its frenetic editing and circular plot, Snatch also boasts a memorable turn from Brad Pitt as Irish traveller Mickey O'Neil.
The 51st State (2001)
A British film fronted by Samuel L. Jackson does exist with The 51st State boasting that credit; playing Elmo McElroy, a master chemist looking to sell his formula in the United Kingdom, he is soon entangled in a web of deceit involving 'Fixer' Felix DeSouza (Robert Carlyle), his boss Leopold (Ricky Tomlinson) and a detective played by Sean Pertwee. Set in Liverpool, The 51st State was a commercial failure upon release but still boasts plenty of fun to be had.
Casino Royale (2004)
Quantum of Solace may have fell short of the mark, with Skyfall soaring to become one of Britain's biggest films of all time, but it was Martin Campbell who reintroduced James Bond to an entire new era. Very much an origins story, Casino Royale establishes a completely new timeline and begins… well, at the beginning. With 007 in the process of earning his licence to kill, he comes across Ian Fleming creations Vesper Lynd (Eva Green) and Le Chiffre (Mads Mikkelsen) in a film fit with well-staged action sequences and memorable moments galore.
Layer Cake (2004)
In 2004, Matthew Vaughn graduated from being Guy Ritchie's number one producer by crafting Layer Cake, a film akin to both Lock Stock… and Snatch, and one Ritchie undoubtedly wishes he had made. Filled with a who's-who cast of recognisable British faces, the crime thriller follows Daniel Craig's unnamed kingpin who plans to retire from the business; however, his plans are foiled when his supplier Jimmy (Kenneth Cranham) sends him out to track down the teenage daughter of their associate, Eddie Temple (a fearsome Michael Gambon). Suffice to say, the gritty hi-jinks are played out in break-neck speed by a cast featuring Sienna Miller, Sally Hawkins as well as early roles for Tom Hardy and Ben Whishaw.
Attack the Block (2008)
British monster movie Attack the Block was written and directed by debutante Joe Cornish, coming from the same production houses as that of Edgar Wright's Three Flavours Cornetto trilogy. Set on a council estate in South London, the story focuses on a teenage street gang who have to defend themselves when alien invaders make their presence known.
Kick-Ass (2010)
Matthew Vaughn's adaptation of Mark Millar's graphic novel may have American money behind it, but there's no denying the clear slant towards British cinema present throughout; surrounding the plot of an American boy who sets out to rid the streets of crime by becoming a costumed vigilante named Kick-Ass are a dangerous criminal underworld headed by mob boss Frank D'Amico, played with relish by Mark Strong. Perhaps solidifying the British effort are appearances from Jason Flemyng and Dexter Fletcher as two of D'Amico's goons.
The Sweeney (2012)
Inspired by the 1970s television police series starring John Thaw and Dennis Waterman, The Sweeney was brought to the big screen by Nick Love (The Football Factory, The Business) and is set in a contemporary London. Starring Ray Winstone as Detective Inspector Jack Regan alongside Ben 'Plan B' Drew, the story focuses on the Flying Squad, a section of the Metropolitan Police designed to investigate armed robberies. Fellow British talent, such as Hayley Awtell and Damian Lewis, both make appearances.
Welcome to the Punch (2013)
Eran Creevy's action thriller depicts a shimmering London landscape, and tells the story of former Icelandic criminal Jacob Sternwood (Mark Strong) who comes out of hiding in an attempt to save his son when a heist in London goes wrong, much to the delight of Detective Lewinsky (James McAvoy), who has always been after Sternwood. However, the two are forced to become unlikely allies in exposing a deeper conspiracy. Appearances from Peter Mullan, David Morrissey and This Is England's Johnny Harris establish this as a true British thriller.
He Who Dares is released on Blu-ray and DVD on 7th April 2014 from STUDIOCANAL