Delivery Man staring Vince Vaughn as an affable underachiever who finds out he's fathered 533 children through anonymous donations to a fertility clinic 20 years ago. Now he must decide whether or not to come forward when 142 of them file a lawsuit to reveal his identity.
Sound good? well how would you like to win a copy on DVD as well as that you will also get a Delivery Man Coffee mug!
all you have to do to win is email us at enterthecomp@gmail.com telling with the answer to this question:
In one of Vince's previous movies, what did he and Owen Wilson 'Crash' ?
We have three sets of DVDs and Mugs to giveaway and winners will be selected Friday 20th June at random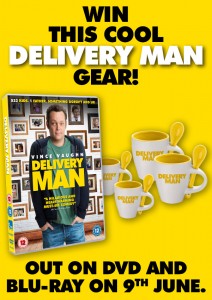 Delivery Man is out now on DVD and Blu-Ray