This hair clay describes itself as an "extreme hold texture wax for natural matte expression".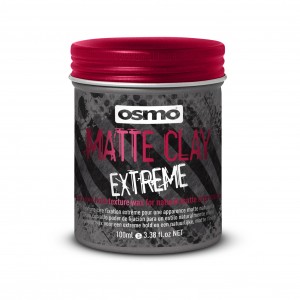 In the 100ml tub it is a firm white cream with a fresh fruity scent. The instructions tell you to "rub the desired amount…" not very helpful, but easy enough to gauge after the first few uses. When this first arrived my hair was in serious need of a hair cut so after trying it and realising my hair was terribly overgrown off I went to the barber. With shorter hair I really liked this product, it allowed me to mess up my hair and it stayed in place without looking like it was gelled.
I liked the no "effort look" it gave. The amount required is fairly small so the tub has lasted very well. I find it suits me to apply it to my hair after lightly towel drying following a shower. I've used it on dry hair and find it effective, but a little "pully" when it's applied. It gives good control over the style whilst looking like there is no product being used. There would be much more to say about this product if it didn't work, but it does exactly what it says on the (nicely styled metal) tin; matte, strong hold, Lasts all day.
I've not had a chance to use it in hot weather without rain to assess how it copes with sweat, but even after a night's sleep my hair is somewhat in the state that it was when I went to bed. I loved the fact that it washes out easily and leaves no residue. In summary, this product suits me when my hair is short, but if you have longer hair then I would expect the level of hold to still work for some styles (perhaps even approaching Jedward length).
Osmo Matte Clay Extreme is available from Amazon and all good retailers for around £8.99 now.