"No one knows what really goes on inside a prison unless they are invited through its iron doors…"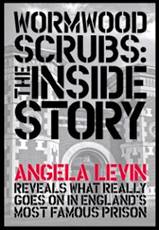 Award-winning journalist and author Angela Levin takes a look inside Wormwood Scrubs, the UK's most notorious prison opening up this secret, extraordinary world as never before – at a time when the prison is on a knife-edge.
From Angela's unique position of Chairman of the Independent Monitoring Board – the prison's watchdog body – she had keys to all parts of the prison and access to all its inmates, officers and governors. She witnessed firsthand the lives of the prisoners – including the mentally ill, the addicts, foreign nationals and recidivists who cannot cope in the outside world. She has listened to the concerns and fears of the prison officers at a time when violence against them is increasing and the prison is struggling to cope with massive cuts. Angela highlights the faults in the system and recommends some essential reforms.
Wormwood Scrubs: The Inside Story is an important and revelatory book that will shock, disgust and amaze all who read it. The book is available from www.amazon.co.uk as an e-book (£3.99) and paperback (£9.99) Now.