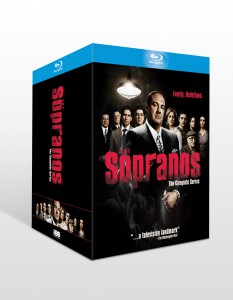 I have personally been waiting for this set for years, The Sopranos a iconic groundbreaking show that tackled everything from cheating, armed robbery to depression I love this show and its fantastic new that the series is finally being given the full HD Blu Ray treatment it deserves.
The Sopranos: The Complete Series Blu-ray is also loaded with more than 5 hours of bonus material including a new and exclusive feature exploring how The Sopranos came to be and how it transformed the television landscape. "Defining a Television Landmark", which runs approximately 45 minutes, features all-new interviews with the cast and crew – including series creator David Chase, the late James Gandolfini (Tony Soprano), Academy Award® winning director Steven Soderbergh, Emmy® Award winner Jeff Daniels and Golden Globe winner Steve Buscemi — discussing the impact and influence of the groundbreaking series, with brand new archival footage. Additional bonus material includes lost scenes, two round table dinners with cast and crew, 25 audio commentaries and much more as seen on the DVD collection.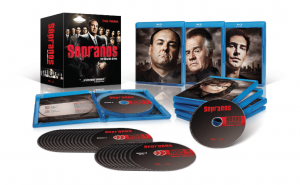 So far this is what we know about what the boxset will contain :
SOPRANOS: THE COMPLETE SERIES ON BLU-RAY DETAILS
Title: THE SOPRANOS: THE COMPLETE SEASONS 1 – 6
Release Date: 8th September 2014
Credit: HBO Home Entertainment
Certificate: 15
Genre: Crime drama series
Price: £129.99
No. of Discs 28 (86 episodes)
SPECIAL FEATURES (All TBC at present):
BLU-RAY ONLY
• New Content: Defining A Television Landmark (45:29)
• Supper with The Sopranos Part I (36:50)
• Supper with The Sopranos Part II (38:02)
• Lost Scenes (12 in total)
• Alec Baldwin Interviews David Chase: "Cut to the Chase" (21:13)
• Alec Baldwin Interviews David Chase: "Anatomy of the Mob" (22:02)
• Returning Content: 77 minute interview with David Chase
All I can say is wow roll on the 8th September when this is released Ive preordered mine allready get over to Amazon and do the same here.