On a break from his duties as the landlord of The Queen Vic, Danny Dyer takes you on a journey through the murky London underworld when ASSASSIN is released on Blu-ray, DVD, and Digital Platforms on March 9th courtesy of Signature Entertainment.
A story of the most corrupt crime bosses in the London underworld, and one man's crusade to bring them to justice. A killer for hire (Dyer) breaks the rules of his profession when he falls for a beautiful young woman. But when the most notorious gangland brothers in London (Martin & Gary Kemp) hire him to kill his girlfriend's father, his world breaks down and he must turn against his notoriously fearsome employers and their gang to save the woman he loves.

Starring professional Londoner Danny Dyer along with both Martin Kemp and his brother Gary Kemp ASSASSIN has a really interesting cast and I found it a lot of fun.
Talking of Martin Kemp if you are regular reader you will know I interviewed him last year but in case you missed it head over here to check it out.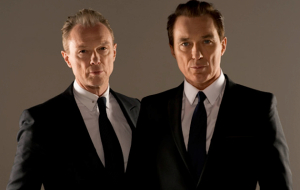 To celebrate the release we have been kindly given THREE copies of the Blu-Ray to give away and all you have to do to win them is tell me which famous Gangster twins did the Kemp brothers previously play?
Answers to enterthecomp@gmail.com
Three winners will be drawn at random on Friday 20th March.
ASSASSIN is out now on Blu-ray, DVD, and Digital Platforms