Wetherspoon across the UK are currently serving ten real ales from across the world alongside a selection of beers from the UK during a 17 day festival  on right now until  Sunday March 29 th.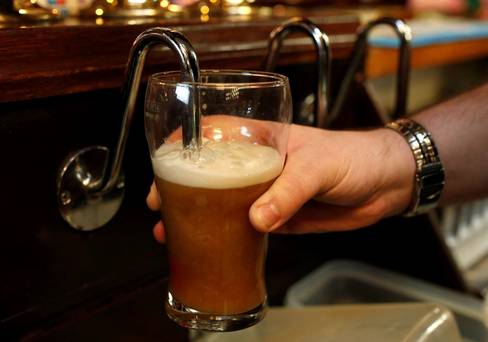 A total of 22 different hop varieties are being featured amongst the festival beers, including established varieties (Fuggles and Goldings) and newer varieties (Boadicea and Jester).
The overseas beers are; Spider Bite (Devils Backbone, USA), Shipwreck IPA (Lighthouse Brewery, Canada), Wee Heavy (Bodebrown Brewery, Brazil), Durban Pale Ale (Shongweni Brewery, South Africa), Hightail Ale (Mountain Goat Brewery, Australia), California Breakfast Ale (Golden Road Brewery, USA) 0' Dwyer's Irish Stout (Dungarvan Brewery, Ireland), JCIPA (Townshend Brewery, New Zealand), English IPA (Cerveza Fort Brewery, Spain) and ESA (Barley Brown's Brewery, USA).
The UK beers include; Play it Again Sam (Phoenix), Monty Python's Holy Grail (Black Sheep), Puffin Ale (Orkney), Lazy Dog (Wolf), Pocket Full of Rye (Brains), Mojo (Robinsons), New Moon (Hanlons) and New Dawn Ale (Daleside).
This weekend I took to my local Spoons to sample some of the festivals delights,  standouts for me were 0' Dwyer's Irish Stout and Spider Bite but if you are thinking of heading down yourself  ( and you have until Sunday)  heres a handy list of all the beer in the festival
GUEST ALE LIST
1 ELGOOD'S SPRING CHALLENGE 3.7 2 FESTIVAL BREW
2 HAWKSHEAD JESTER 3.7 1 FESTIVAL BREW
3 ROBINSONS MOJO 3.7 3 NEW, SEASONAL BEER
4 B & T BEDFORDSHIRE CLANGER 3.8 3 SPECIAL BREW
5 BATH COBBLESTONE 3.8 3 NEW, SEASONAL BEER
6 BANKS'S ARCHER 4.0 3 NEW, SEASONAL BEER
7 BLACK SHEEP MONTY PYTHON'S HOLY GRAIL 4.0 2 SEASONAL BEER
8 DEVILS BACKBONE SPIDER BITE 4.0 5 INTERNATIONAL BREWER – USA BANKS'S
9 EVERARDS ASCALON 4.0 3 SPECIAL BREW
10 PURITY RIVET 4.0 3 FESTIVAL BREW
11 MAULDONS BRONZE ADDER 4.1 4 NEW, SEASONAL BEER
12 HYDES PADDOCK WOOD 4.2 3 NEW, SEASONAL BEER
13 JENNINGS GOLDEN HOST 4.2 2 SEASONAL BEER
14 RUDGATE BREW NO.11 MILK STOUT 4.2 5 SPECIAL BREW
15 BRAINS POCKET FULL OF RYE 4.3 1 SPECIAL BREW
16 PHOENIX PLAY IT AGAIN SAM 4.3 1 SPECIAL BREW
17 CELT EXPERIENCE A FALSE DAWN 4.4 2 FESTIVAL BREW
18 HANLONS NEW MOON 4.4 3 FESTIVAL BREW
19 MORLAND THE TANNER'S JACK 4.4 3 SPECIAL BREW
20 OTTER OTTER'S PROGRESS 4.4 3 FESTIVAL BREW
21 DUNGARVAN O'DWYER'S IRISH STOUT 4.5 5 INTERNATIONAL BREWER – EIRE WADWORTH
22 LANCASTER ALBION CONNECTION 4.5 3 FESTIVAL BREW
23 MOUNTAIN GOAT HIGHTAIL ALE 4.5 4 INTERNATIONAL BREWER – AUSTRALIA HOOK NORTON
24 NOTTINGHAM SALSA 4.5 2 SPECIAL BREW
25 ORKNEY PUFFIN ALE 4.5 2 NEW BEER
26 WHARFEBANK OTHELIA GOLD 4.5 2 NEW, SEASONAL BEER
27 DALESIDE NEW DAWN 4.6 4 FESTIVAL BREW
28 HOOK NORTON INSPIRED 4.7 2 FESTIVAL BREW
29 WOLF LAZY DOG 4.7 3 SPECIAL BREW
30 ADNAMS JESTER 4.8 2 FESTIVAL BREW
31 CALEDONIAN MERMAN XXX 4.8 4 SPECIAL BREW
32 GOLDEN ROAD CALIFORNIA BREAKFAST ALE 4.8 2 INTERNATIONAL BREWER – USA ADNAMS
33 HILDEN NANSEN STREET 4.8 4 FESTIVAL BREW
34 ACORN SOVEREIGN IPA 5.0 2 FESTIVAL BREW
35 BATEMANS LINCOLNSHIRE RED 5.0 4 FESTIVAL BREW
36 CAMERONS VERMILLION 5.0 4 SPECIAL BREW
37 SHEPHERD NEAME BOADICEA IPA 5.0 2 FESTIVAL BREW
38 TITANIC WIT STOUT 5.0 5 FESTIVAL BREW / SPECIALITY BEER
39 VALE SPS 5.0 4 SPECIAL BREW
40 WADWORTH YE OLE ADMIRAL 5.0 2 FESTIVAL BREW
41 BARLEY BROWN'S ESA 5.1 2 INTERNATIONAL BREWER – USA MARSTON'S
42 RCH BOADICEA 5.3 2 FESTIVAL BREW
43 SALOPIAN INDIGENOUS 5.5 5 FESTIVAL BREW
44 TOWNSHEND JCIPA 5.5 2 INTERNATIONAL BREWER – NEW ZEALAND EVERARDS
45 INVERALMOND RASCAL LONDON PORTER 5.6 5 NEW, SEASONAL BEER
46 SHONGWENI DURBAN PALE ALE 5.7 2 INTERNATIONAL BREWER – SOUTH AFRICA BATEMANS
47 CERVECERIA FORT ENGLISH STYLE IPA 5.8 2 INTERNATIONAL BREWER – SPAIN SHEPHERD NEAME
48 BODEBROWN WEE HEAVY 6.0 4 INTERNATIONAL BREWER – BRAZIL CALEDONIAN
49 LIGHTHOUSE SHIPWRECK IPA 6.5 3 INTERNATIONAL BREWER – CANADA WYCHWOOD
50 WELTONS CHURCHILLIAN STOUT 6.6 5 SEASONAL BEER
for more info on the festival and to download some tasting notes head over to their real ale site  www.jdwrealale.co.uk