With National Barbecue Week this week (25th – 31st May) kick-starting the barbecue season, there's no better time to come out of hibernation, get out into our gardens and enjoy good food and good company. Barbecue brand Weber and Tom and Henry Herbert of TLC's The Fabulous Baker Brothers: A Bite of Britain have joined forces to encourage the UK to reach out to our neighbours and get together this summer with their Come on Over campaign.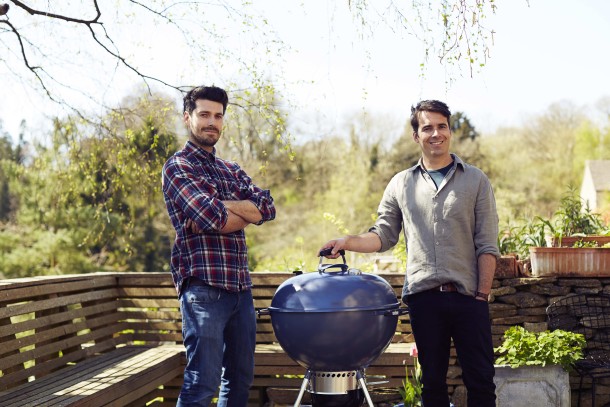 "It's such a pity we seem to be losing our sense of community spirit," said Tom Herbert. "My family have been part of the local neighbourhood fabric, baking and breaking bread for over five generations. It's so important for so many reasons; our Hobbs House Bakery business couldn't run without the support of our community but on a personal level it gives me a sense of identity and belonging."
"Barbecues are such a great way to get people together," continued Henry Herbert "there's something utterly irresistible about the scent of a barbecue wafting over the garden fence – it's almost a natural call to 'come on over'.
"Barbecuing can be as simple as sizzling a sausage or as impressive as a 10lb rotisserie pork or seared tuna. You can cook whatever suits you, your budget and your creativity, with the added benefit that you don't need to clean the house before or after!"
Together Weber and the Herbert brothers will be providing expert advice, hints and tips on how to cook and host the perfect barbecue with the Come on Over campaign.
The Herbett brothers want you to tweet using the #comeonover about your perfect barbecue occasion
To win simply grab a sign and write:
1: Your Name
2: Location
3. What's the Occasion
4 #ComeOnOver

You could win a Weber master-class and party at their home for you and your friends For more information or to enter the Come on Over competition visit www.facebook.com/webergrillsuk.