SPOT Gen 3 satellite tracker.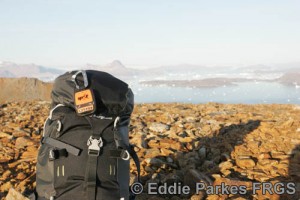 For my recent trip to arctic Greenland I was lent a SPOT Gen 3 satellite tracking device. This is a one way communication system that allows people to see where you are and also to report that you are OK or in trouble.
I went to a fairly remote region in Greenland and was planning to do some travel on my own, therefore a system to summon rescue in case of trouble was essential. Mobile phones won't work in a remote country like this once out of the towns and marine VHF radio wouldn't be especially reliable either.
The SPOT is palm size, it has a GPS receiver to determine your location and a low power transmitter so report your location and any messages. It has options to track continuously, send a message saying you are ok, a message that is customisable, a message saying you need help and a SOS button. The messages apart from the SOS, go to pre-defined lists of people either to their mobiles by SMS or email. These messages have links to Google maps showing exactly where you are on the planet. You can choose who each message goes to from the SPOT website, and the lists can be different for each message.
The SOS button sends a message to a call centre in an underground bunker from where they report your location and distress to the local rescue authorities, for obvious reasons I didn't test this feature, but this was a great safety net for me to have.
On opening the box there is the device, a webbing strap, a karabiner, and a pack of lithium aa batteries. Once the batteries are in there is a simple set up system online and then it is good to go. There are some settings such as tracking interval that requires the device be plugged into the computer to change, this is straight forward too.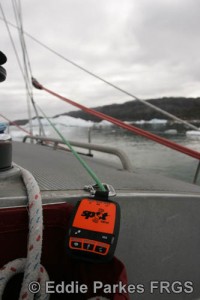 I found the device easy to use and the website fairly intuitive to set up the messages etc.
I set up the custom message to say good morning / good night to go to my girlfriend and the OK message to go to my family so they could see that I'm OK and where I was at that point.
I also set up a tracking map on my travel blog, so friends and family could see me in real-time as I moved around the area. This was either by sailing boat, foot or kayak. There was no problem with tracking any of these methods of transport.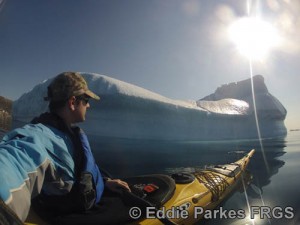 The only 2 negatives I can think of are: They suggest putting it on the back of your rucksack to get the best reception, but there isn't a low battery buzzer, so this is a slight concern (not that battery life was a problem), but when the unit reaches 30% battery the LED light turns red. That still gives at least a couple more days battery before it runs out, so as long as you glance at it every couple of days you'll be fine.. And that the tracking only shows the last 7 days, but you can get round that with 3rd party websites.
Having this with me allowed me to be more independent, knowing that there was a safety net in case of incident, because unless I had a device like this there was no way of someone coming across me if I was injured otherwise. And some of the ground I was hiking over had a high risk of injury (think boulders like in 127 hours)
I expect to be going back to Greenland in the future and I will be certainly taking a satellite communicator with me for emergencies. I couldn't justify the price of a sat phone, but these are much cheaper and still provide great coverage outside of mobile phone range and allow family and friends to know I've not been eaten by a polar bear etc.
In conclusion:
These are great devices that should be considered by people in places with sketchy mobile coverage either in remote countries or even regular visitors to the Lake district etc. The cost is reasonable with extras available depending on the needs of the user.
The Girlfriend comment
I got left at home on my own while he was away having fun. He assures me he was working hard, but I am not so sure! We had very limited communication whilst he was away due to the lack of internet and phone signal/price of the calls etc. On occasions that he left the village to have 'an adventure' (and he wonders why I am suspicious of the working hard comments!) there was no way of me contacting him, therefore it was nice to have the comfort. The occasional ping of an email/text letting me know that he was safe & well… and alive made me feel more content (don't tell him, but when he was off having the adventures I was a little worried). This little gadget may be a little on the pricey side for some people, and I have to admit when he told me the price I thought this, but as the person left at home after the first message those thoughts disappeared, it was well worth every penny for my peace of mind.
They are available from the manufacturer here