Whether you're waiting for that hot girl from the gym to text you (not that you're bothered, obviously…) or you're just seriously trying to avoid that deadline looming at work, there are whole host of ways to procrastinate that you might not even have ever considered. Think putting stuff off is limited to mindlessly scrolling Facebook or binge watching Netflix? Think again!
1. Play Online Slots
Online gaming isn't just reduced to Candy Crush and those other annoying Facebook games your family constantly invite you to. There are loads of different ones in the online casinos that can benefit you, too. There are loads of fun slots from 32Red so it will really feel like you're at the arcade. If slots aren't so much your thing, you can give the likes of Wow Bingo a go, for a different kind of online game, but you'll find that if you want the best of both worlds, 32Red offers bingo as well.
2. Browse Online Shops
It's not just for girls you know. There are seriously a whole ton of online stores which are bound to catch your eye. From the latest men's fashion right through to tech and gadgets, there are absolutely loads of ways to blow some time (and cash…) on the internet.
3. Window Shop For Holidays
Whether you've got millions in the bank or nothing to your name, sometimes there's nothing more exciting than a bit of wishful thinking when it comes to holidays.
Whether you're just window shopping or actually planning a vacation, you can kill literally hours planning all the different places you could possibly go. The world is absolutely huge, and whether you want a party island, city break or a romantic getaway, there is tons you can do. You can even work away – plenty of people do small tasks for a place to stay, or travel for free (not that we are trying to convince you to do more than look…!).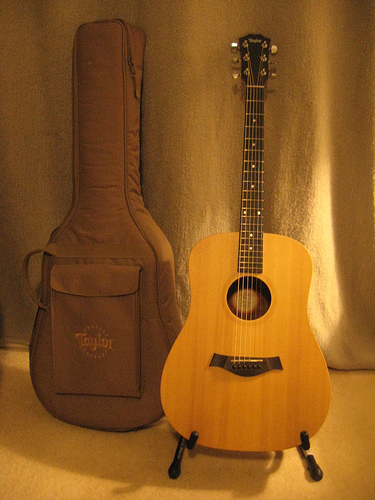 photo by pmuellr
4. Learn An Instrument
You know that old acoustic sitting in the corner of your room that you literally have never played and just have for show? Isn't it time you did something about it? Everyone loves a musician and it's a party piece that's especially good to pull out at beach BBQs or basically anything during the summer. Just think, you could even join a band and tour the world… who knows? The world is your oyster.
by pmuellr
(Don't blame us if the above fails!)
5. Learn To Cook
This isn't synonymous with eating. Sure, stuffing your face will kill some time, but shoving a pizza into the oven doesn't exactly make you a master chef. To sharpen those culinary skills requires quite a lot of time, but it pays off in the end.
Plenty of girls love a guy who can cook, and it can do wonders for the work you're putting in at the gym if that's your thing, too. After all, they say abs are made in the kitchen.