The trouble with chain restaurants is we often assume we'll get average-quality, mass-produced food which is microwaved to order or produced in a central kitchen somewhere. Sure, we go to them when we need a quick bite but it's not uncommon to hear them talked about with snobbery.
Chiquito is one of those big chains, but one that seems to want to stamp out that mass-produced fast-food style image. With that in mind, this week they launch their brand spanking new menu, a selection of which I was invited to sample last week.
It was explained to us the that the Chiquito team had taken things very seriously, travelling to Mexico, to sample the best food and drinks the country has to offer to find inspiration for their new dishes.
In addition to an authentic approach to Mexican cuisine, the Chiquito team stressed that all this new food would be prepared from scratch in-house at each restaurant.
Having tasted the food on offer, each paired with a tequila cocktail, I think they have certainly pulled off transporting the flavours of Mexico to a rainy London evening.
Here's what we had, each dish was paired with one of Chiquito new Mexican influences cocktails :
Tortilla chips & fresh guacamole ( whats left of them in photo (opps!) , in fact they even make their tortilla chips freshly in house hence I didnt even get the chance to take a photo before they were nearly all snapped up!

**
Empanada
Crispy tortilla parcel filled with roasted vegetables & feta
Gran Centenario Plata Batanga
Owned by Jose Cuervo, this is an exceptional quality 100% agave silver Tequila with a subtle palate and long, smooth finish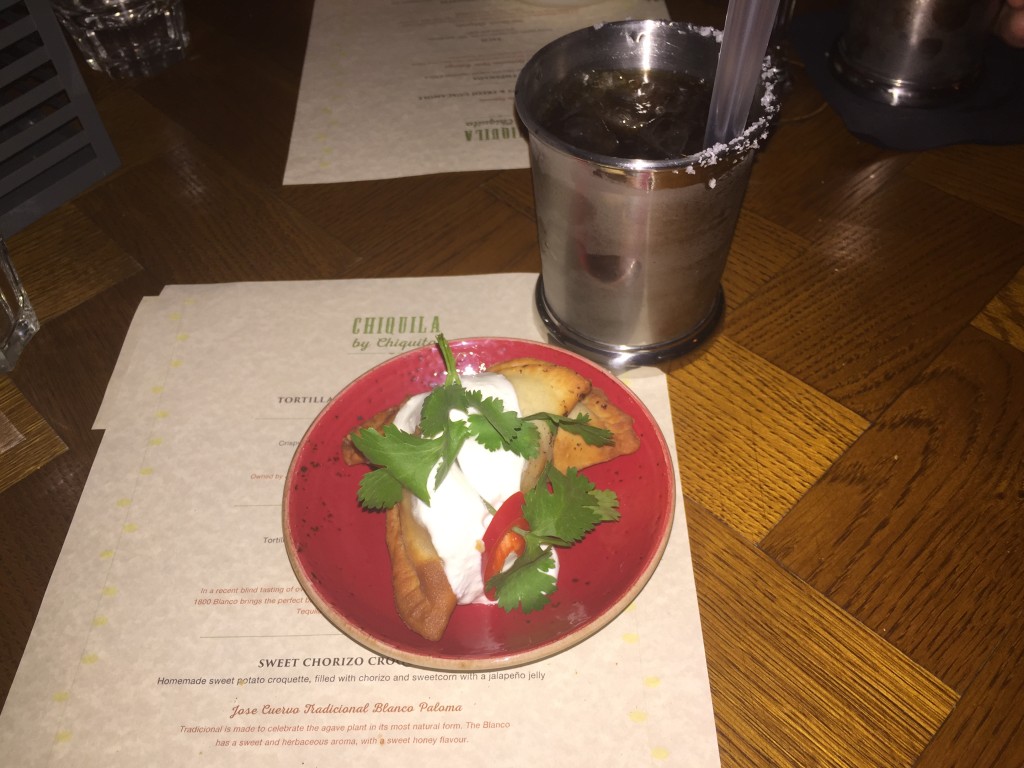 **
Taco
Tortilla topped with chipotle cod loin, baby gem lettuce
and sweet pink onion
1800 Classic Margarita
In a recent blind tasting of over a dozen Margaritas, this is the drink that scored the highest. 1800 Blanco brings the perfect balance of sweetness and earthy notes to the drink. A fantastic Tequila from the Tequila Highlands.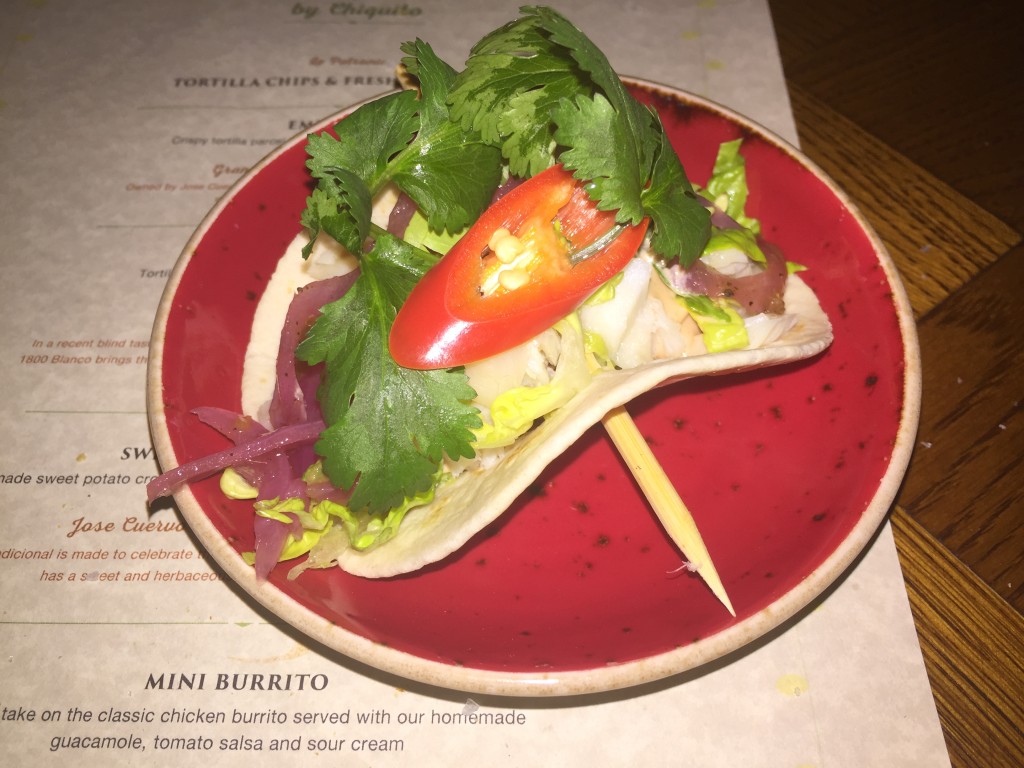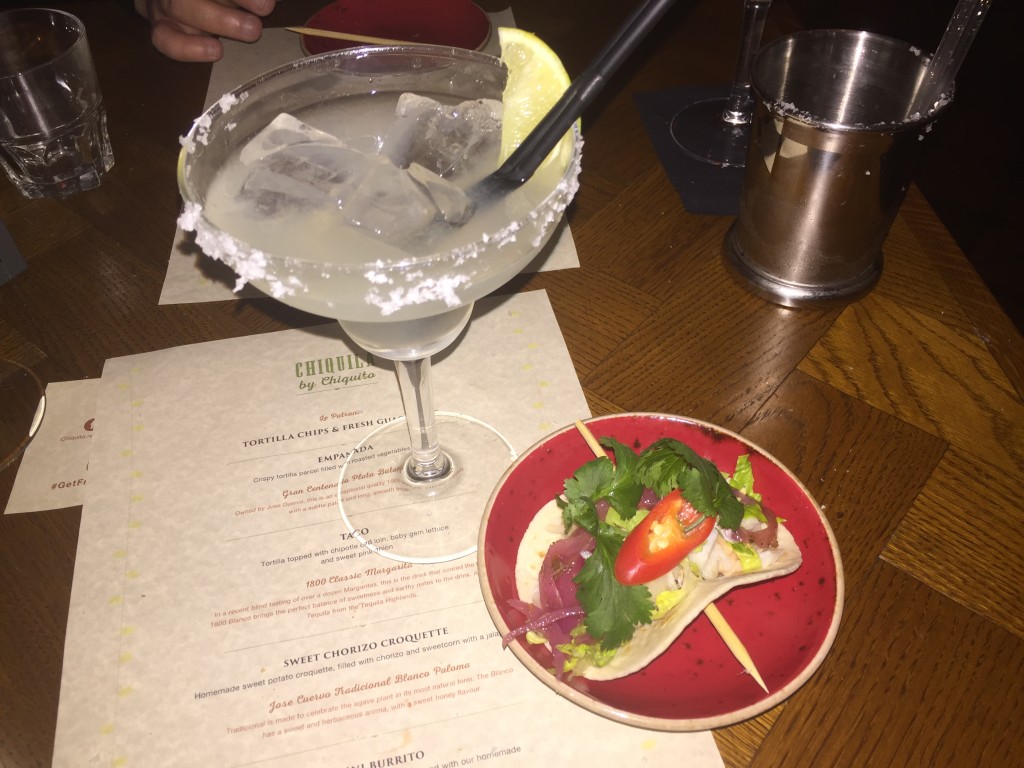 **
Sweet chorizo croquette
Homemade sweet potato croquette, filled with chorizo and sweetcorn with a jalapeño jelly
Jose Cuervo Tradicional Blanco Paloma
Tradicional is made to celebrate the agave plant in its most natural form. The Blanco has a sweet and herbaceous aroma, with a sweet honey flavour.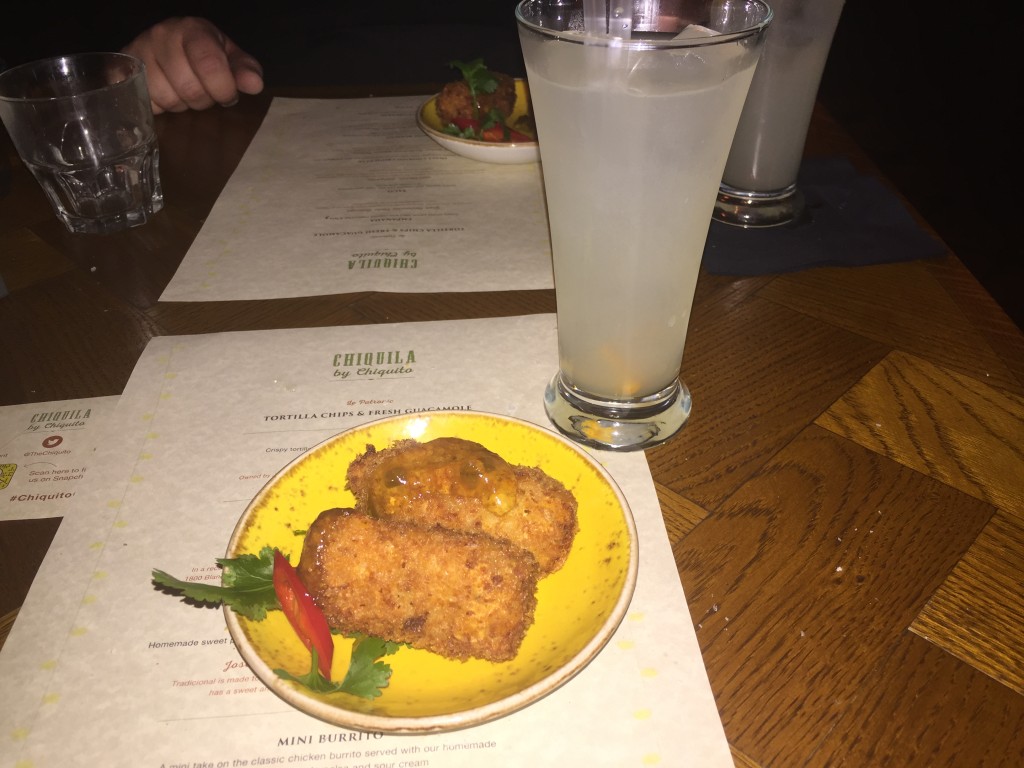 **
Chocolate churros
Luxurious churros with a pot of chocolate
Patron XO Café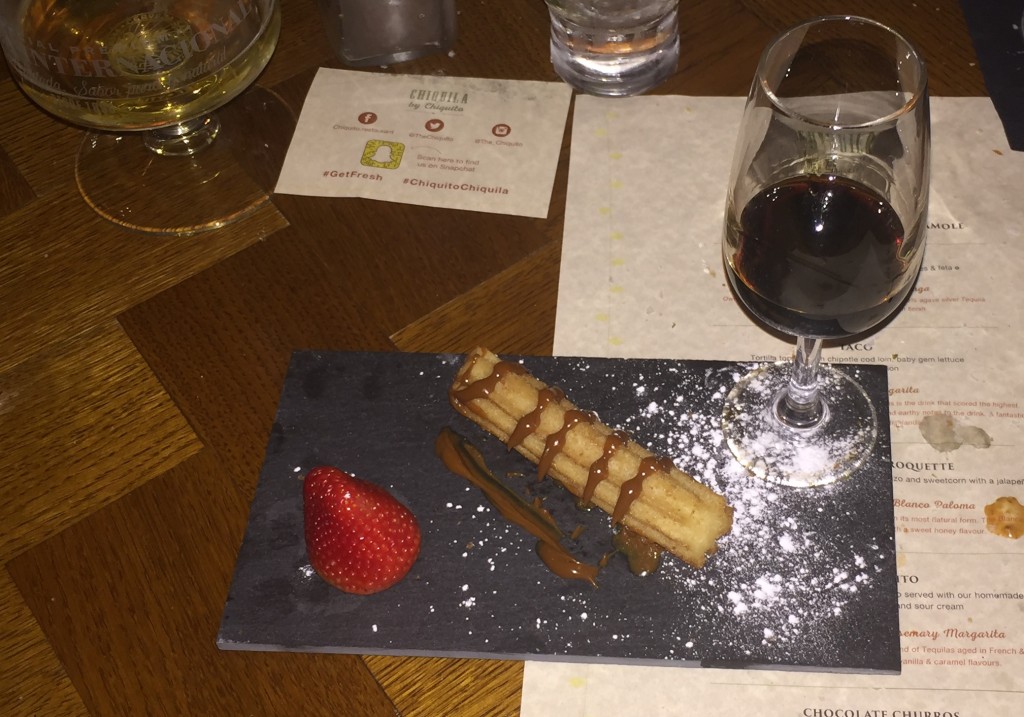 The Chiquito Street Food menu is available now. Inspired by the traditional Mexican markets, these small plates named antojitos, mean 'little cravings' in Mexico are perfect for sharing with prices as little as three dishes for £12.95.