To coincide with the DVD and Blu-Ray release of his new Shakespeare adaption The Hollow Crown: The War of the Roses we bring you this exclusive interview with actor Benedict Cumberbatch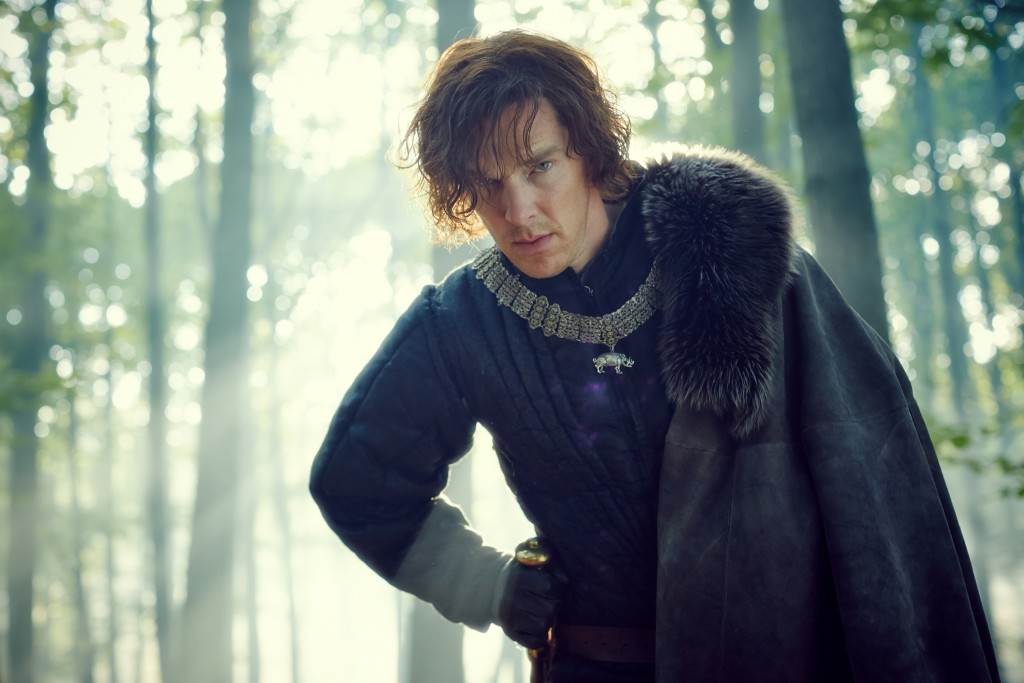 It was discovered last year that you are a second cousin 16 times removed of Richard III, whose remains were discovered three years ago in a car park in Leicester. Does that mean you sympathise with the modern-day supporters of the King, who feel Shakespeare has unfairly portrayed him as a villain?
I understand very much that for those people he's a much loved King who they feel has been maligned. I get it. After all, I'm a very close relative of his! Although now his body has been found, I might suddenly discover they made a bit of a DNA mistake with me!
Is it reasonable to say that Richard III is not necessarily the remorseless baddie he is often viewed as?
Yes. There's all this mythology surrounding Richard. He provokes a polarity of opinion. Is he a bad guy who killed the Princes in the Tower or a good guy who has been much maligned by the play? We don't really know. A lot of what we have left is still PR. We could have had a disclaimer at the beginning of the play saying, 'Written by William Shakespeare, who was a playwright in the Elizabethan era, about the last Plantagenet King. Elizabeth was the daughter of Henry VIII, a Tudor, hence its slant'.
 So he was not unrelentingly evil?
No. We know certain facts. For instance, we know about the bereavement that he and Anne, who were apparently a loving couple, suffered with their son. Being a father of only a few months, I can only imagine how utterly devastating that must have been. So those accounts are very touching. But of course, in the play that's not what he's about.
At what moment does Richard morph into something more malevolent?
The point that really tips him beyond an inclusive enjoyment of his plans and his ability to seduce us into his world of mad, ultimately very destructive, power-hungry megalomania is infanticide. When he has the two young Princes killed in the Tower of London, that marks a full stop for any sympathy – till right at the very end when he makes another direct appeal to us, asking, 'How can anyone love me? I don't even love myself!'
What makes Richard so embittered?
A: The important thing to remember is that from the very beginning, Richard is born into this family of Adonises, of athletes of Kennedy proportions. He is the black sheep of the family. He is ostracised and left at home looking after the kids – which is no place for a man in the medieval world, where it is your duty to go out to fight. When he is not allowed to prove himself physically, he becomes politicised and starts to think of smart things to say at the table. When he is finally allowed to go to war, he becomes a vicious warrior in order to prove himself in battle. That is very important to him. He becomes weaponised.
So his development makes dramatic sense?
Yes. There is a real trajectory to Richard's journey. He is not just the medieval trope of a villain that a lot of critics have said he is. There is great subtlety and lots of back story to this character. Our vision was to humanise him and see his whole story. He loses himself in order to come back in a final moment of stark, cold realisation. He's lost everything and all he has got left is anger and rage. So to play that whole journey is an absolute treat. And to be able to do it with a camera investigating when you break the fourth wall – what a gift for any actor!
Why is Richard alluring to us even as he is plotting to murder his way to the crown?
He is a compelling because he seduces us to be complicit with his direct addresses to the audience. That tarnishes us because we're fascinated by the car crash. It's so seductive because he shows us the fallibility of human nature around the magnetism of power. And all of it is done with such open, naked aplomb. He explains everything. He shows you behind the curtain and says, 'Watch these people being fooled by this trick!' It's like Dynamo showing you how it's done. We revel in the way he is playing people and asking us to enjoy that.
Does The Hollow Crown ever run the risk of being gratuitously violent?
A: No. It's not just trying to shock people. It's saying, 'Look at what we're capable of'. It's always in context, and it's always a morality test.
Why is Shakespeare so timeless?
I'd hate to piggyback off what's currently going on in politics, but of course Shakespeare is always relevant – anyone can see that. But what's magical about these plays is that you could do them in five or 10 years' time and they'd still have the same effect because they're timeless studies of the very human condition of power. Macbeth works in Swahili or German or any culture because it's about tribalism and power and desperate, overarching, corrupting ambition. These plays show the frailties, the ego, the susceptibility and all the machinations of what power does to people. That's why Shakespeare is still so potent 400 years on.
Tell us more.
It's not about who is the goodie and who is the baddie – there's enough human edge to all of these characters for you to be able to identify with them. You could place them in any political paradigm and they would still work. It could happen in an office environment or in the jungle or in a metropolis. It's about humans at any time, not just in that one moment. Ian McKellen can do a version of Richard III set in 1930s and Martin Freeman can do it set in the 1970s. I saw a wonderful version of the Scottish play with Ray Winstone set on a council estate. It all works. Wherever humans are trying to stand on top of one another to take control, these plays will strike a chord. Shakespeare's work can take any interpretation.
Do you think The Hollow Crown can help widen the audience for Shakespeare?
Yes. It's like when I did Hamlet at the Barbican in London last summer. To play Hamlet live to a rapt audience every night was amazing. I was very keen to see how many could be fitted into the theatre – that was really important when choosing a venue. I felt it would be unfair to the people who might want to see it if we did it in a small venue. I thought we should be a bit more generous than that and perform it in a big theatre. If you can broaden the audience and show them how brilliant Shakespeare is, that's fantastic.
How do you feel about the end of Richard III?
I feel very lucky to be almost the last one standing in this play. And no, that's not a spoiler. The play has been out more than 400 years. You can definitely print that – Richard doesn't make it. Or maybe he comes back at the end and says, 'Did you miss me?' Or perhaps he could reappear in a car park!
 You are currently filming a new series of Sherlock. What can you tell us about it?
It's great, great fun to be back. There are lots of things happening in the new series. But I can say nothing about them! [Laughs].
The Hollow Crown: The War of the Roses is available on Blu-ray and DVD on 20 June