A Vomit Inducing Bike Lock – The Ultimate Deterrent?
How confident are you that your expensive, brand new bicycle lock is going to stop anyone really determined to steal your most prized and indispensable possession?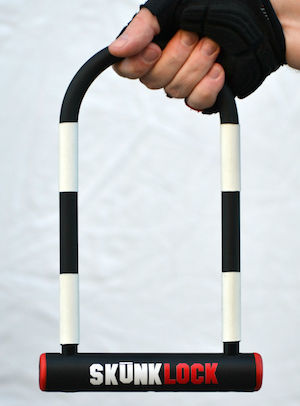 It's a sad fact that protecting your bike from theft is almost impossible these days.
Until a new and innovative security device called the SkunkLock hit the scene that is.
"After witnessing first hand and becoming victims of bike theft ourselves, we realized that people don't need a bigger, stronger lock, we needed a lock with a fundamental deterrent." said Daniel Idzowski from San Francisco, one of the inventors of SkunkLock.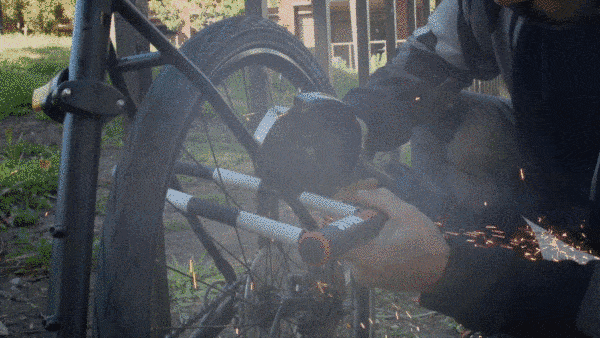 Along with his co-creator Yves Perrenoud, Idzowski has created a device with an advanced disc-cylinder tumbler lock that's as formidable as some of the most expensive bike locks out there.
But this is no ordinary lock. It comes with a secret weapon.
"SkunkLock is a hardened medium-carbon steel U-Lock that's as difficult to compromise as the strongest U-Locks, and comes with a surprise." continues Idzowski.
"It's pressurized inside with a noxious chemical deterrent that slams the would-be thief with noxious chemicals. The chemicals are so disgusting they induce vomit in the majority of cases, and elicit an instinctive response to run away immediately."
This means that if any thief attempts to saw through the SkunkLock, as soon as they hit the hollow interior it instantly releases a cloud of the vomit producing chemicals towards them.
This concoction codenamed 'formula D-1', also ruins the clothes of anyone close to it or any protective gear they are using.
Describing just how effective it is, Idzkowski said "At two feet it was pretty bad. It was absolutely vomit-inducing in 99% of people."
The team behind SkunkLock are now looking for funding on Indiegogo. Pledge $99 and you should receive your lock by June 2017.
https://www.indiegogo.com/projects/skunklock-the-only-bike-lock-that-fights-back-bicycle