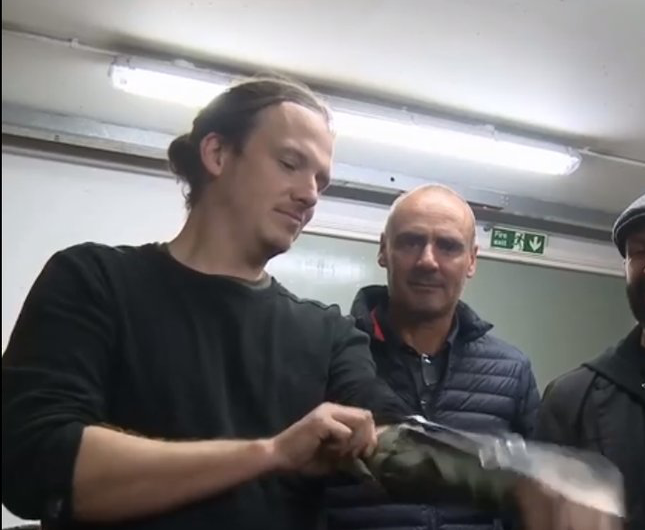 Last week I had the opportunity to chat with Tim Wildgoose who has built a career as  Weapons Master for a number of amazing film and tv shows including Band of Brothers , Transformers, Edge of Tomorrow and now the new Assassin's Creed movie which is out on DVD and Bluray today, here's what he had to say
How did you get into the weaponry side of movie making in the first place?
I am a huge film-fanatic and wanted to work on films from as early as I can remember – I always wanted to work for Industrial Light and Magic and make props on a Star Wars movie.  I ended up doing a degree in sculpting and model making at the university of Hertfordshire aimed towards prop making.  I landed some work experience in my second year on a HBO/Dreamworks TV show that was shooting nearby called Band of Brothers and ended up doing the entire shoot of the series with the Armoury department dealing with the weapons and firearms on set and it turned into a career making weapons for movies that has lasted around 20 years so far.
Do the actors ever have input into the weapons you use in production? I have read for example Daniel Craig likes to be involved in the watches, weapons etc used in a film.
Occasionally actors will have input into the weapons but these will usually be in the form of the practicality of a particular weapon's use when on set. For example, extending a sword handle so it is easier for them to use in a fight scene.  Sometimes an actor will request a certain weapon to use but generally it is down to myself, the director and production designer as to what they will carry and to design the look of them.
In films where the weaponry is from the future or a different world it seems the guns at least tend to have a base of an existing weapon what's the reasoning generally for this?
Very often a weapon will be required to fire blank rounds on set in order to get a flash on the actors face and surrounding scenery/set as they fire to help the VFX department add and tie-in the actual projectile/laser/whatever that should be coming out of the end of the weapon later in post-production.  Also some actors like the feedback/noise etc that firing an actual firing gun gives them when acting.
The regular way to do this is to build the futuristic weapon around an existing blank firing gun or mechanism as this saves time and money as you already have a fully working mechanism ready-made and engineered to reliably fire blank rounds.
This then has a knock on effect of having the outer-shell of the weapon resembling in some way the blank firing gun inside it.
There are other methods to achieve this and more so now with the help of better VFX, so the requirement for a blank firing gun inside is not always necessary anymore.  I have worked on movies recently where the usual blank firing mechanism has been replaced with a super-bright LED in the barrel and a recoil mechanism – meaning the design/shape of the weapon does not have to stick to any particular design constraints.
You worked on things like Band of Brothers, is it hard to source period accurate weapons for something like that?
I worked for a well-known and long established armourer called Simon Atherton on that job who sourced all the weapons for Band of Brothers.  There are many armoury companies based all over the world that keep a stock of a selection of all period weapons so it is not too much of a problem for movies to get hold of what they require. Any particular items that do not exist or are difficult to source can also be built/reproduced.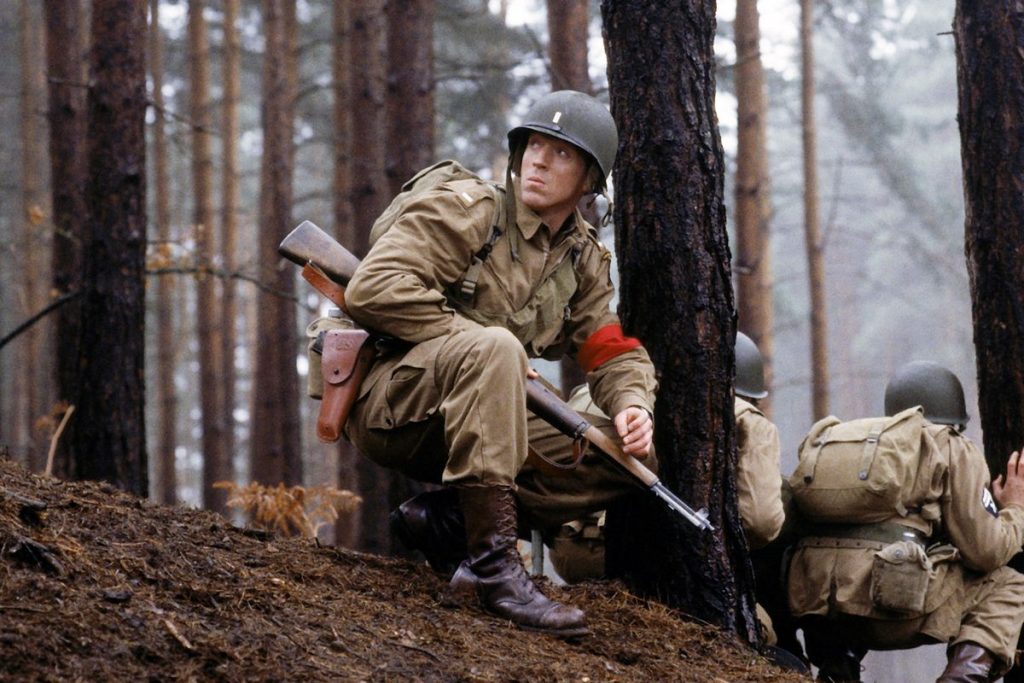 You have just worked on Assassins Creed, how close to the video game did the characters weaponry have to be or were you given freedom to come up with something new for the movie?
It was a good mix of both. We knew we wanted to keep the fans happy so we tried to cram as many of the games weapons into the movie as possible. So many of the scenes and some minor characters have weapons faithfully reproduced from the games hidden in the background.  We considered these the 'Easter Egg' weapons.  As a fan myself it was a pleasure to reproduce some of these iconic weapons that I myself had played with in the game over the years.  We also had some of our actors playing actual characters out of the games so again we faithfully reproduced these as closely as possible.
Then we had our new characters and Assassins – Aguilar, Maria and so on – unique to this movie which made up the rest.  We spent a long time with director Justin Kertzel designing and making our own versions of the wristblades, mechanisms and other Assassin weapons and tried to come up with weapons that were interesting and new while still keeping within the realms of the established Ubisoft/AC universe.
Filming in the UK where the gun restrictions are a lot stricter than places like the US how does that affect the weapons you would like to use / source for a Particular film?
This has little/no effect, it is very hard to get a section 5 licence required by the government to hold certain firearms but licence holding armourers have no problem sourcing what they require when they do.
I've seen in the past actors use a combination of real guns and rubber prop guns, when we are watching at home when does the gun tend to be the rubber kind and what's the purpose of them?
Generally rubber guns are used as a safety element to protect an actor doing a stunt, for example if an actor is jumping or falling we will use a rubber weapon in case they were to fall on it to prevent injury. The rubber weapon bends and in most cases is indistinguishable from the real thing unless close up. Real guns are heavy and there is a lot of weight behind them that could cause a lot of damage if it was to hit you.  We also use rubber weapons in a situation where a person might get hit/struck with a weapon as part of the story, for example clubbed round the back of the head with a pistol – A very soft rubber pistol might be used here.
How much training does an actor get with a weapon on say something like Assassins Creed?
This depends on the weapon. Generally, actors will do weeks if not months of training with the stunt teams/fight coordinator in most case using the weapons, or as close as possible, the weapon that they will be using in the movie. We want the actor to look like the sword or whatever they are carrying as a character is second nature to them.  In the case of firearms, actors will usually go through a safety training/profficiency course with the firearms they will be using beforehand.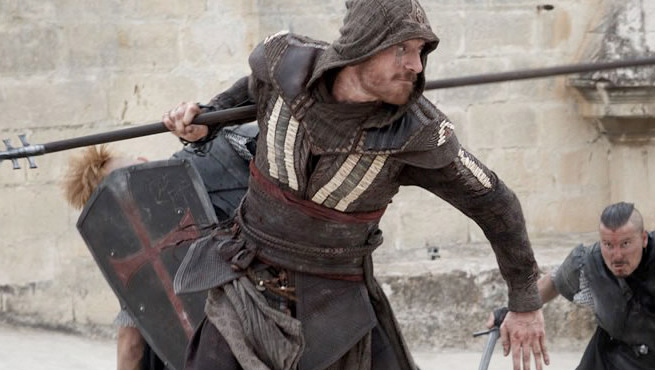 Brandon Lee famously died due to live rounds being placed in a gun instead of blanks, since then has safety been stepped up a lot to ensure things like that never happen again?
Arrghhh this question! sorry but I get asked this a lot.
In the Brandon Lee case my understanding was a series of unfortunate and avoidable events that occurred due to negligence and was not the case of having a live round making its way into a blank firing gun.  Any professional movie armourer would never have live rounds on a movie set for obvious reasons. Many checks are made to make sure this kind of thing cannot happen and blank firing guns cannot generally fire a live round due to the way they have to be altered to enable them to fire a blank round.
Other safety checks are in place as well, for example barrels are checked regularly/religiously for anything lodged inside. Where possible weapons will not be fired directly at an actor, as more often than not this can be achieved by 'cheating' the weapon a little to the side, so from the cameras perspective it looks like an actor is being shot when in reality the weapon is pointed elsewhere
What's the most exciting project you have personally worked on and why?
Assassins Creed has been my favourite project to date, firstly because I am a gamer and was already a huge fan of the games before I even got on board the film. Assassins Creed as a universe and by the nature of its story spans many time periods in history. Usually on a movie you might get to make weapons from one or two time periods at the most. On this movie we must have made weapons from around fifteen different periods of history right up to modern day/futuristic and got to design weapons to suit
We also got to make many cool gadgets.  The AC universe is full of intricately designed 'Da Vinci' style mechanisms such as wristblades, wrist crossbows, dart-launchers, wrist grapples, smoke bombs and all sorts of other interesting contraptions and interesting weaponry.  The brief I worked to with my department of talented modelmakers, sculptors, painters and leatherworkers was that everything we created had to be beautiful, any mechanisms/gadgets had to work for real and it all needed to be museum-worthy. I think we achieved this and it was a pleasure to go through the whole process from start to finish. I honestly believe we created some of the most beautiful weaponry ever put on film.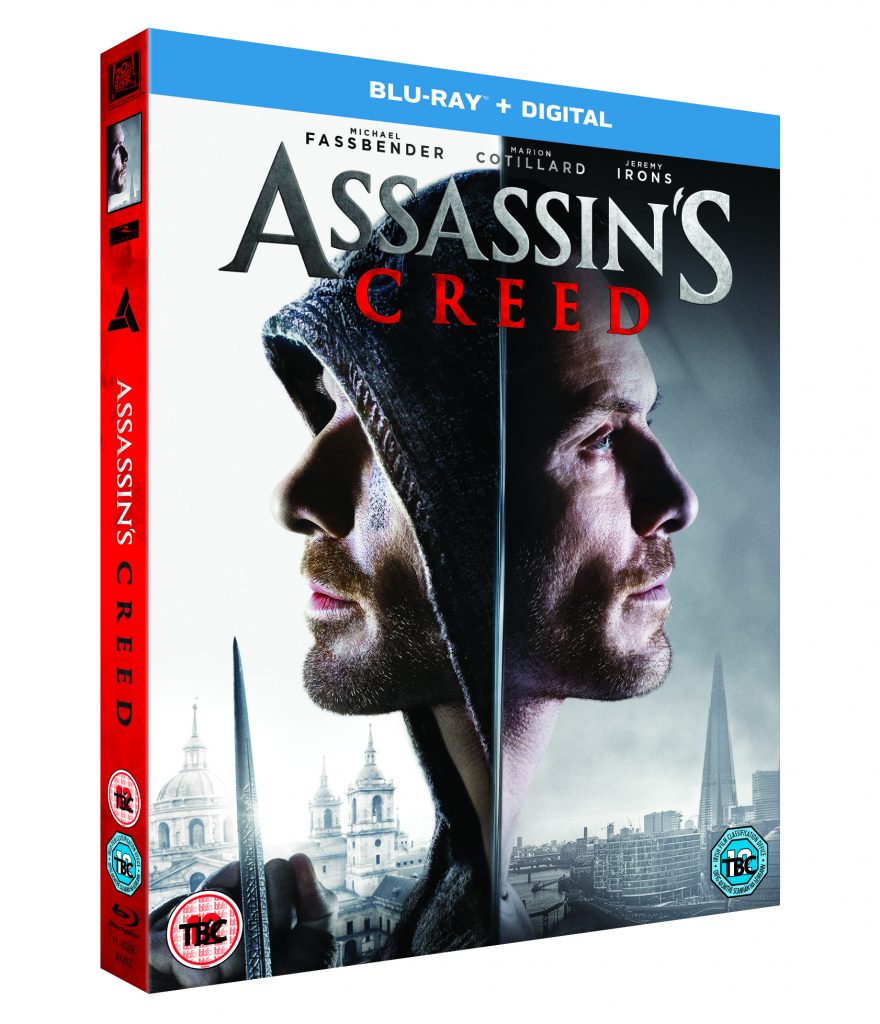 Assassins Creed is out now on Blu-ray, DVD and Digital Download.